In the UK, the HSE (Health and Safety Executive) is a government agency that oversees the regulation and enforcement of health, safety, and welfare in the workplace. One of those regulations is The Health and Safety (First Aid) Regulations 1981.
The regulations are better known as the 'First Aid at Work Legislation'. In a nutshell, the legislation details how employers have a legal obligation to ensure the immediate care of employees that get injured or become ill while they're at work.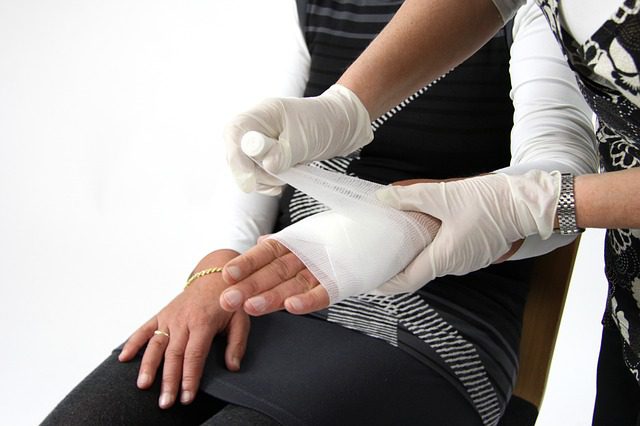 HSE places the onus for duty of care on the employer and requires workplaces to provide first aid care to sick and injured personnel. However, what confuses many employers is the regulations don't stipulate what the requirements for each unique working environment are.
To that end, the employer must work out for themselves which first aid provisions they must put in place for the safety and welfare of staff. This page describes more about the First Aid at Work Legislation and what you as an employer must do.
Why is the legislation so important?
The legislation is part of a series of measures put in place from the Health and Safety at Work etc Act 1974. It describes the essential aspects of first aid that all employers need to adhere to, irrespective of how small or large the business, organisation, or premises is.
As you've no doubt gathered by now, there were no legal workplace requirements before the HSE's first aid regulations in 1981. Workplace injuries and illnesses are sadly commonplace, and according to HSE's own compiled statistics for 2018 to 2019:
581,000 people sustained an injury at work;

1.4 million people experience work-related illnesses;

2,526 workers contracted mesothelioma after exposure to asbestos.
You may assume that the legislation only deals with the types of first aid equipment needed in the workplace. But, the aim of The Health and Safety (First Aid) Regulations 1981 is also to manage the provision of requirements and training for first-aiders.
Definition of 'adequate and appropriate' in the legislation
When you read through the legislation, you'll come across regulation 3 which states that employers must provide 'adequate and appropriate' first aid equipment and facilities. You'll come across those two words frequently in the legislation. But what exactly do they mean?
As you can appreciate, each employer's working environment is different and comes with different sets of risks. For example, office staff will have different risks in their workplace compared to builders working on construction sites.
The legislation uses the words 'adequate and appropriate' because it's up to employers to carry out risk assessments of their workplaces. And once they've done that, they must put in place first aid measures that match those risks.
What is the legal requirement for first aid at work
As an employer, you want to ensure your staff is safe while providing services for you. To that end, you'll no doubt be wondering how to comply with the legislation?
First of all, you need to do a thorough risk assessment across each of your sites. A risk assessment identifies how likely employees are to injure themselves during their work.
Next, you'll need to provide at least one first aid kit to treat sick or injured staff. The legislation doesn't specify what you should have in the kit. But, it does state the contents should treat likely injuries or illnesses sustained from the causes in your risk assessments.
Finally, you'll need an 'appointed person' that is in charge of provisioning first aid care and treatment, even if your business or organisation doesn't need a specific first-aider.
When it comes to determining your first aid kit and appointed person needs, you must take the following into account:
How many employees work at each of your sites;

Pre-existing conditions and illnesses that your employees have;

Number of visitors to each of your premises;

Typical hazards found in any workplace, not just the ones specific to yours;

HSE's specific guidance for your business or organisation's industry.
HSE has published a document online that you can review to learn more about the common questions surrounding first aid at work legislation.
How to give first aid training to employees
It's one thing to have the right contents in your first aid kits at each of your work sites. But, it's crucial that your appointed first-aiders have the relevant training and qualifications to ensure they can deliver the right first aid to sick or injured employees.
Skills Training Group can provide a variety of first aid at work courses to your employees and designated first-aiders.
Contact us today to find out how we can help your business comply with The Health and Safety (First Aid) Regulations 1981.