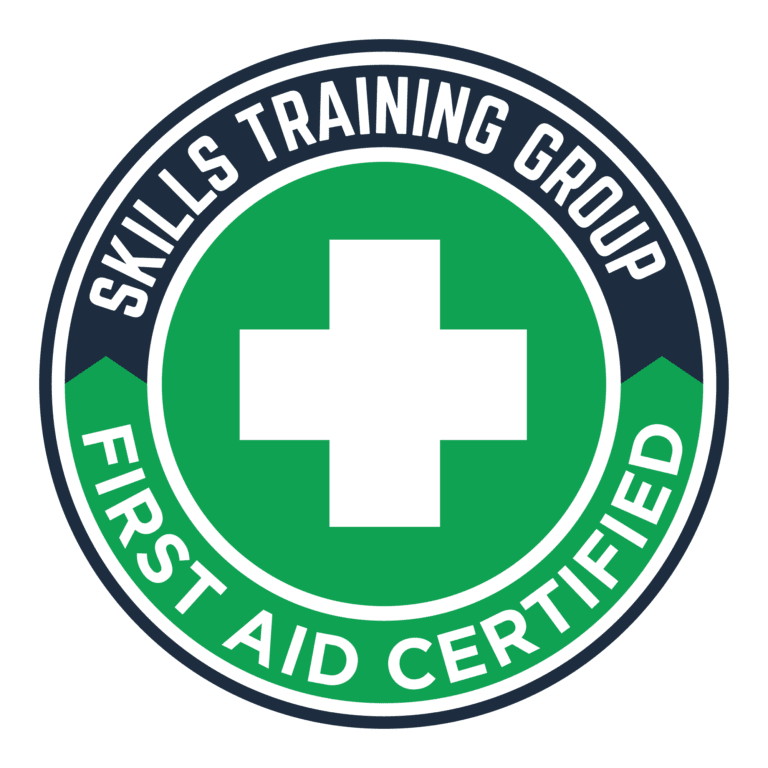 The Skills Training Group – First Aid Certified badge is awarded to companies or sole traders who have completed an accredited workplace first aid course with Skills Training Group.
This means that at least one of their staff have successfully passed a 1-day Emergency First Aid at Work Course or a 3-Day First Aid at Work Course.
The full content of the training covered is below:
Emergency First Aid at Work (EFAW) – 1 Day:
ACTING SAFELY, PROMPTLY AND EFFECTIVELY IN AN EMERGENCY
CARDIOPULMONARY RESUSCITATION (CPR)
TREATING UNCONSCIOUS CAUSALITY (INCLUDING SEIZURE)
WOUNDS AND BLEEDING
SHOCK
MINOR INJURIES
CHOKING
PREVENTING CROSS-INFECTION, RECORDING INCIDENTS AND ACTIONS AND THE USE OF AVAILABLE EQUIPMENT
USE OF AUTOMATED EXTERNAL DEFIBRILLATORS AED
First Aid at Work (FAW) – 3 Days & First Aid at Work Refresher (FAWR) – 2 Days:
ALL OF THE ABOVE TOPICS ON THE EFAW COURSE PLUS
FRACTURES
SPRAINS AND STRAINS
SPINAL INJURIES
CHEST INJURIES
SEVERE BURNS AND SCALDS
EYE INJURIES
POISONING
ANAPHYLAXIS
HEART ATTACK
STROKE
EPILEPSY
ASTHMA
DIABETES
If you'd like to undertake first aid training and have the potential to save a life, book a course online today or contact us on 0808 164 2780.