Are you interested in taking an entire, practical first-aid course for your dogs?
The dog first aid course covers treating comatose dogs and many other common illnesses and injuries, such as choking, bleeding, fits, poisoning, and much more.
The course is conducted online or in small groups and includes practice training using a specially created dog manikin and other useful training tools.
It is a terrific method to show off your expertise in canine first aid if you work in the business as a dog walker or groomer.
Just get in contact with your preferred learning institution, and they will take care of making arrangements for your course.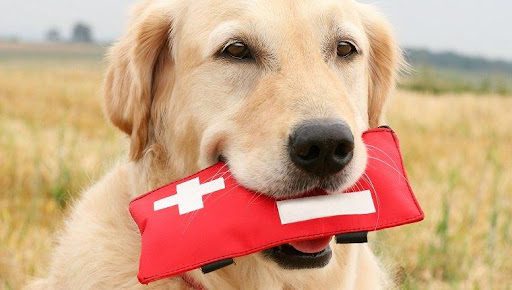 KEY TAKEAWAYS:
The course is

ideal for gaining the knowledge and confidence needed to assist in a crisis

until veterinary assistance is available for dog lovers. This course can be completed at your own pace.

Through the course, you can learn how to check a dog's breathing, take its pulse, determine if something is seriously wrong, and perform CPR if necessary. Topics that will save the life of someone's canine friend.

If you have pet first aid training and a certificate,

it establishes your authority and inspires current and prospective clients

to feel comfortable entrusting their pets to your care.
---
First Aid Courses to Take for Pets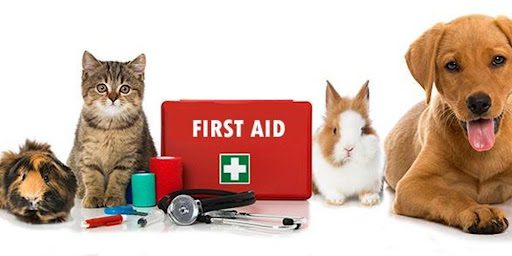 Taking a course for pets is advantageous for anyone who has pets. Knowing what to do with an unwell or injured animal is a wonderful opportunity to help and save a family pet.
This knowledge-packed course is recommended for anybody who wishes to understand how to respond to a situation.
Also, how to be more confident in dealing with the situation and keep composure while supporting the pet until they receive the necessary medical care.
The course is divided into manageable study modules and is available online. It can meet your busy schedules and save money and hours on travel.
As long as you have access to the internet, you may study the courses from any site, whether on your desktop computer or tablet.
Pet First Aid Course Overview
The ideal training course for anyone interested in learning about pet first aid is a pet course.
The online course can be taken part-time, and you can earn your accreditation in as little as 5-8 hours while setting your own pace. It saves hours of travel and money!
Extensive courses are supplemented by knowledgeable instructors available to assist you via email. They help answer any questions you may have while taking the course.
Your credentials will be acknowledged, and their validity can be verified on the specialised site.
The courses are packed with details and organised into six digestible sections to make learning more efficient and fun.
Each training course module provides details and guidance on pet first aid and CPR.
The courses equip you with the skills and understanding necessary to handle a wide range of occurrences and enable you to make a difference and extend a pet's life.
The multiple-choice questions required at the end of the online course will be given to you twice.
When you complete the course, you are granted instant access to your pet first aid certificate, which you can download, print, and bring to your next job interview in the industry.
All credentials may be checked online, assuring prospective employers that you have the completion of the required course and that it satisfies their particular needs.
The courses in pet first aid can provide you with a lifetime of wisdom that may come in handy in an emergency.
Your skills, confidence, and business learning will all grow as a result of the course, adding genuine value to your professional development and personal growth.
Canine First Aid Course Overview

Anyone in need of a canine first aid course is the target audience for this course. For dog professionals or dog owners, these courses are perfect.
Knowing how to treat your dog with basic dog first aid can give you the proficiency and abilities to support them before your vet can provide medical attention.
Training providers offer new videos for online first aid training that you can watch for eight months to keep you current with your skills.
In this course, you will receive free weekly refresher video emails as part of the online training to keep your learning current and up-to-date on breaking news.
Each student will obtain a free login to a section of the website where they can access other settings of the courses and download a student manual.
Online learners who complete online courses can print their certificates, while classroom course learners will get a wall certificate and wallet card in the mail.
This course's content has been independently certified as adhering to generally recognised Continuous Professional Development (CPD) guidelines.
The courses also include a certificate from the learning institution, a Certified CPD Statement, and an Evidence-Based Learning statement for online courses.
---
Who Should Take These Courses?

For enrollment in this course, there is no prior experience or previous qualifications required. All pupils, regardless of their academic backgrounds, have access to it.
The canine course is intended for owners and others working with dogs. Participants include:
Dog owners

Groomers

Kennels

Pet business owners

Rescue personnel

Trainers

Behaviourists

Dog walkers

House Boarding

Canicross authorities
We think every person who works with dogs should have a current certificate in canine first aid and renew their course every year.
---
What Is the Course Syllabus?
This course is chock full of pet first aid familiarity.
It is intended to equip you with the basic understanding and abilities required to deal with any scenario affecting your pets at work, whether you work in a store or veterinary clinic.
The six classes in the course give you a complete introduction to pet first aid and cover the following topics:
Veterinary services: An introduction and their significance

Learn about the overall health of pets

Find out how to visit and register with your neighbourhood veterinarian.

Learn about the structure of a dog.

Discover the various reasons for canine limping.

Learn how to examine pets at home.

Study pet digestion

Discover how to check vital signs

Understanding the signs of dehydration and what to do

Learn how to control bleeding and assess wounds properly

Learn how to cure burns on all types of pets.

Learn the proper way to deal with a choking pet.

Be aware of what to do if a pet experiences shock.

Study basic pet CPR.

Recognise how to approach a wounded animal.

Learn the many methods and instruments for restraint.

Understand the symptoms and indications of frostbite.

First aid for drowning and nearly drowning

Learn about potential household dangers

Study poisoning and its remedies.

Learn how to treat vomiting and diarrhoea at home.
Pet First Aid Syllabus
The following modules make up the course:
Introduction: Getting Ready
Pet first aid supplies

Signing up with a vet

Guidelines for dog walkers

Client directives on the veterinarian's contract

First aid instruction

How to securely utilise medication

Inquiring with a veterinary

Drugs that are suitable for use

How to force your pet to vomit safely

How to cause illness in a domestic setting

Unusual precautions to take
Plan Beforehand
Less serious scenarios than emergencies

Evaluation of the victim

A basic emergency response plan

Steps to take for patients who have collapsed

The stabilisation

ABC

Blood loss

Comfort

Breaking legs

Different techniques for controlling animals that won't bite

How to support people who are in pain

Get away from danger/stabilise

Request assistance
First Aid Method
The meaning of shock

Shock therapy

How to recognise the shock in your pet

How to handle shock

Controlling blood loss

Compression garments

Cleaning of wounds

Treating bite injuries

Nursing basics

A bandage

The basics of bandaging

Different bandaging methods

Dressing the victim's paw.

Bandaging the limbs

Limb splinting

Bandaged tail

Applying ear bandages

The animal's body was bandaged.

How to create successful homemade bandages
CPR
The meaning of CPR

When to perform CPR

Cardiopulmonary arrest

Assessing an animal's breathing

Investigating airway obstruction

Hemiplegic manoeuvre

Artificial respiration usage

How to perform artificial breathing

Cardiac arrest

Monitoring heartbeat

Compressions of the chest
A-Z of First Aid
What is an abscess?

Emergency medical intervention

Allergic response

What happens when an allergy is present?

Emergency medical intervention

A severe allergic response (anaphylaxis)

Consciousness loss
A-Z of First Aid (Continued)
Infection of the eye

Elevated core temperature

Foodborne illness

The breaking

Heating up

Bleeding blister

Problematic areas

Reduced body temperature

Insect sting

Neck pain

Poisonous materials

A scorpion's stings

The spasms

Shock

Contaminations on the skin

Breathing in smoke

Snake stings

Heat stroke due to high temperatures

Ticks

Agony

Peeing is challenging

Throwing up
FINAL EVALUATION
Canine First Aid Syllabus
The content of the online course is listed below. The course and training in the classroom could differ slightly.
Overview of Canine First Aid
Overview of Canine First Aid

Overview of the Canine Course

Why do we need pet first aid, and what does it entail?

The veterinarian and your part in first aid

When Do They Need Veterinary Care?

Save your pet during a crisis.

Car Mishaps

Making your home pet-proof

Way animals express suffering

Performing a health check on your cat and learning what is typical

Getting a Feeling

Pet first aid kits
Accidents, CPR, and First Aid
Respiratory and breathing issues

Introduction to CPR

Dog CPR

Practical Pet CPR Demonstration

Drowning and first aid

Shock

Therapy for pet fractures

Moving a hurt animal and causing a spinal injury
Health Conditions
Bleeding Types

Bandages, dressings, and preventing bleeding

Pet bandages wrapped

Paw Issues

Injury to the Nails and Claws

Wrapping the Ear

The tail's injuries and bandaging them

Post-bandage care

Puking

Canine Digestive System

Animals and Diseases

Animals with stings

Overheating and heat stroke

Treatment for Hypothermia

Epilepsy and Seizures

Overview of Choking

Choking

Snakes bites

Fleas

Ticks

Animal Stings

Diabetes
Dogs of All Breeds and Sizes
The Senior Dog

Dogs with brachycephaly
An Overview of Pet First Aid
Thunderstorms and fireworks

An overview of pet first aid
---
What Does the Course Content Look Like?
Through eLearning, this course is provided online.
The course covers a comprehensive range of all course materials, online assessment tests, study guides, student profiles, academic procedures, student support, and more.
Students will gain instant access to this portal after making secure payments and enrolling in the online course.
---
How Do These Courses Work?
Students will take several online tests throughout the course to gauge how well they learn the material.
The course content includes interactive assessments after each module for students to gauge their understanding of the material.
It serves as an excellent tracking tool and aids in reflective learning.
You will take an online final assessment test after you complete all the course modules, which will generate questions from the courses.
The last exam is interactive and will be graded immediately, letting the student know their final grade.
If you don't pass the course the first time, you can retake it as often as necessary and without having to pay extra charge or fees until you pass the course.
---
What Are the Requirements for These Courses?
The course is fully compatible with PCs, Macs, laptops, tablets, and smartphone devices. Internet access on mobile devices is more popular than ever.
Therefore they made sure that the course would be fully compatible with tablets and smartphones so that you could access it over wifi, 3G, or 4G.
There is no specific completion date for this course; you may complete it whenever you like.
All examinations, which are online and can be completed before or after the course, are included in the cost.
No prior training or experience is needed to enrol in the Pet First Aid Course and CPR. You can pay securely using PayPal or a Debit/Credit card.
The course is open to all students, regardless of academic standing.
Students should be literate and have a basic command of the English language. You should be more than fine to begin the course if you understand the details of this course.
---
Benefits of Taking These Courses
There are several advantages to earning your pet first aid certificate online, including:
Online courses have no time limit, and you can move at your speed.

There are no predetermined hours for completion; you can take a week or a few months.

Available on the majority of current devices as long as you have internet access

Online assistance throughout your academic career

Access to the modules for all time

Certification accepted by industry

Online first aid certificate verification is an available convenience.

Accelerate your career

Don't wait to put your new knowledge to use.

Maintain your knowledge about animal welfare.
---
Some Quick Tips and Techniques for Pet Emergencies
The following are some methods that could be useful and are provided in the pet courses:
Preparedness for Emergencies
The ability to plan can mean the difference between life and death:
Keep your veterinarian's contact number handy.

Make pet first aid equipment that you can take with you everywhere you go.
Actions to Take in an Emergency
It can be challenging to remain calm when your pet is in danger.
Keep your cool, analyse the situation, administer any required first aid to your pet, and then dial your veterinarian. Remembering the acronym "Dr ABCs" is beneficial.
Danger

– make sure you and others around you are safe.

Response

– Check your pet's reaction to their name or touch.

Airway

– Is their airway free of obstruction?

Breathing

– Are they breathing or not?

Circulation

– Are they circulating? Do they have a heartbeat or a pulse?

Send

– Contact someone to request assistance!
Your pet may become terrified in an emergency, behave differently than usual, and even bite. Make gentle movements and speak as calmly as possible to soothe them.
You must proceed with extreme caution if you must transport your injured pet.
---
Frequently Asked Questions (FAQs)
For your reference, we've collected a list of frequently asked questions and their answer about the animal course on first aid.
How Long Does a Canine Course Take?
The entire course lasts about 4-6 hours. Regular comfort breaks are provided throughout.
Are All of the Courses Provided Available Online and Classroom-Based?
There are several methods that courses can be offered.
It includes an online course, where the course materials can be accessed remotely, and a classroom course, where instruction is given in person in a classroom setting.
What Issues Do Dog Owners Face?
Animals and birds experience separation anxiety much as people do.
Separation anxiety is undoubtedly difficult. Separation anxiety may be to blame if your pet keeps yanking at your clothes when you leave them alone.
Will the Course Result in Employment?
Although finishing school can improve your knowledge and skill set, relatively few courses offer job placement as a benefit.
Depending on your career specialisation, this might help you stand out in the crowded employment market.
Is a First Aid Kit Necessary?
You must ensure your home is prepared with the necessary first-aid supplies for your pets if you are an owner.
A well-stocked first aid kit will make you better equipped to address a medical emergency that affects your dog, cat, or others.
---
Conclusion
The best action plan would be to thoroughly sort through the courses to see which is appropriate for you and your current situation.
Accredited course programs are a requirement for many occupations. The course's quality is ensured by its industry recognition, and employers will value it.
Whether you are training for a job, a business, or some other purpose, you must ensure the course is reliable and will pass the necessary background checks.
Look for a well-presented course and good value for money!
---
If you're looking for first aid training for humans, check our range of first aid courses here.