The average domestic electrician salary in the UK is £32,805 per year, which is considerably more than the overall average salary of £28,080 (according to the most recent ONS data). With the right training, electricians can go on to earn even higher salaries as specialists or by setting up their own firm.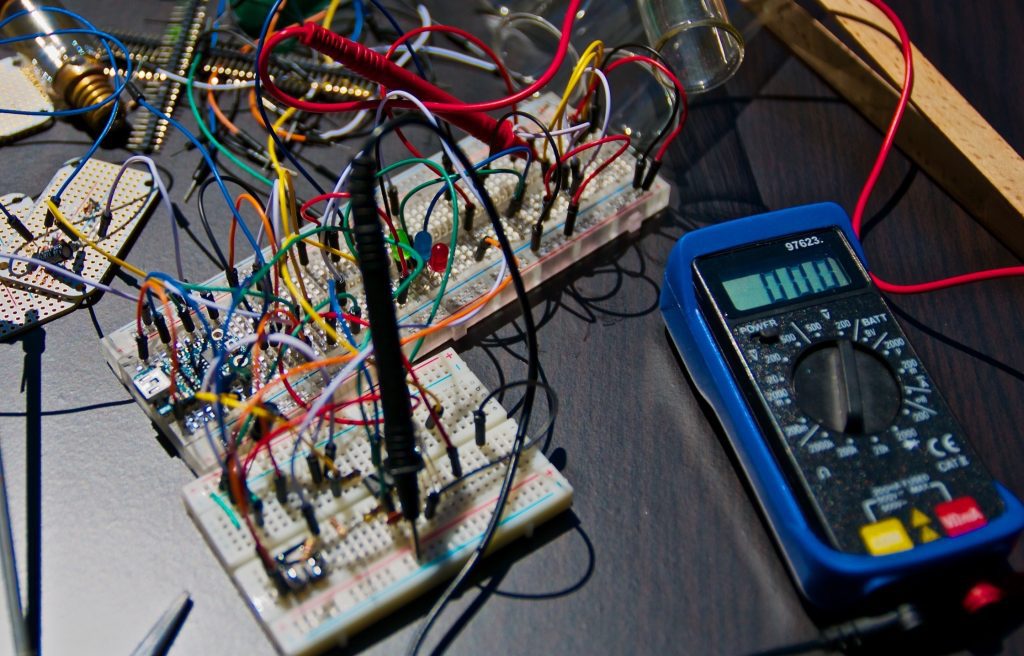 What Affects Your Salary as an Electrician?
A variety of factors influence your pay as an electrician. Like many other professions, experience plays a huge role in determining your salary. New starters who have recently qualified can expect to earn between £19,000 and £22,000, whilst some established electricians take as much as £70,000 per year.
Other factors that can affect your salary in the electrical trade include:

Customer service skills
Availability and willingness to travel
Problem-solving skills
Qualifications
Competence and abilities
Business acumen
Customer service is a really important aspect of all of the trade professions. Your people skills determine how much repeat business you get – equally, your ability to maintain relationships with clients will influence your online reviews and ratings, which are now more important than ever.
Your abilities and willingness to travel dictate the jobs you're able to take on, with some electricians travelling far and wide for the right opportunities. You don't want to limit your earnings by not being able to complete tasks, either, so you should seek exposure to all kinds of work from the outset.
Whilst your problem-solving skills and business acumen may not seem directly related to your salary potential, these could come into play down the line. You might have the practical skills to set up your own firm, but actually running an electrical company requires know-how and dedication.
Where Do Electricians Earn the Most in the UK?
There is a lot of variation between average electrician salaries in different parts of the UK. It won't surprise you to learn that London electricians earn the highest average wage: according to ONS data, electricians in London earn £37,689 on average, whilst the figure for Wales is £27,859.
The breakdown for other regions in the UK is as follows:
South East – £33,808
South West – £30,311
East Midlands – £32,859
West Midlands – £33,892
Yorkshire and the Humber – £33,563
North East – £30,408
North West – £31,564
Scotland – £33,649
Self-Employed vs. Employed Electricians: Who Earns More?
Recent research found that self-employed electricians earned the most on average from the 20,000 self-employed professionals surveyed. Within this group of respondents, self-employed electricians earned £51,200 per year on average, 56% more than the average electrician salary in the UK overall.
There are a number of reasons behind this, but having control over your own pricing is one of the most significant factors. Self-employed electricians have complete free reign over their prices (provided, of course, that clients are willing to pay what they're charging).
Self-employed electricians also decide their own working hours, booking in jobs at times that suit them. This allows for intensive periods of working more than eight hours a day, meaning that some electricians are able to rack up very reasonable weekly salaries by working long hours.
Electricians that market themselves successfully can generate consistent streams of work online and offline. High volumes of requests mean that self-employed electricians can pick and choose what they want to work on, often focusing on the most profitable tasks such as electrical testing.
However, despite the increased salary potential on average, self-employed electrical work isn't for everyone. Some find it difficult to stay motivated and end up working too few hours, whilst others struggle with the business side of the job and can't bring in enough work.
With this in mind, here are some of the benefits of both types of electrical work:
SELF-EMPLOYED
Decide your own working hours
Set your own pricing
High salary potential
EMPLOYED
Steady income and work
Defined working hours
Holiday and sick leave
Career Progression Opportunities for Electricians
There are many different opportunities for career progression as an electrician. Whilst you may start out as an apprentice or newly qualified assistant, you could work towards promotions within a firm, set up your own business, or even specialise in a particular area of commercial electrical work that piques your interest.
It's common for electricians to gain experience working at an established firm and then take the self-employed route. If you decide that this is for you, then you'll need to learn how to run an electrical installation business as well as picking up the core technical skills. Try to get exposure to how the firm is managed at an early stage if possible.
Not everyone is cut out for running a business, but there are still plenty of opportunities for career progression if management isn't your cup of tea. There are lots of exciting specialisms you could go into through further study and qualifications – for example, you could become an electrical engineer specialising in renewable energy!
Get Started on Your Training as an Electrician Today
With high average earnings, the option to go self-employed, and many opportunities for career progression, now is the time to get into the electrical trade. For those who have good problem-solving and people skills, a rewarding career as an electrician might just be the right move.
Hopefully, this post has provided you with all of the information you needed about average electrician salaries in the UK and how to maximise your earning potential. To get started, take a look at our range of electrician training courses & 18th edition electrical courses or get in touch for more information.