If you're considering retraining or are about to leave school and are trying to decide what path to follow, becoming an electrician could be your passport to a rewarding role, excellent career prospects and strong earning potential.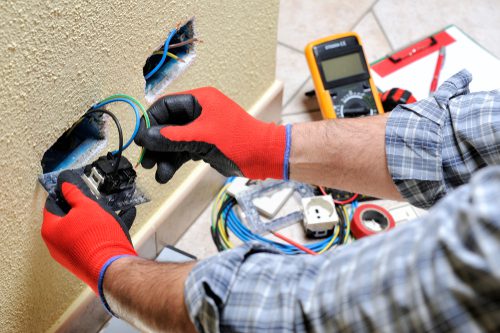 Why become an electrician?
The UK is currently in the midst of a chronic shortage of skilled tradesmen, with professions such as electricians, plumbers and bricklayers in greater demand than ever. New homes are being built in their thousands but this pace isn't being matched by the number of qualified workers plying their trade.
Newly qualified electricians who opt to work for an employer can expect to earn between £19,000 and £22,000 a year. However, after gaining more experience working in the industry, you can expect a much higher salary.
London currently holds the highest salaries for electricians at £35,802. The lowest salary figures at the moment is the South West, where the average electrical salary is £28,534.
These figures are based on a median calculation, which means that the average has not been influenced by a small amountof high earners and shows a realistic salary for most electricians.
As a result of the skills shortage, electricians are in high demand. Research carried out late last year suggests that a small number of electricians can earn around six times the average UK wage and take home up to £156,000 a year as a result. The government wants to see 1 million new homes built in the next two years so you can expect demand to increase even further, making qualifying as an electrician a financially lucrative and safe career path.
Download your free information pack
Find out how you could train as a domestic gas engineer by downloading a free copy of our information pack.
Picking a training path
If you're considering training to become an electrician, you can choose one of three main options to obtain the necessary skills and qualifications.
Start an apprenticeship (with NVQ or SVQ qualification)
Study a diploma or technical certificate
Take a domestic installer course
Once you're qualified, there are a number of routes you can take, such as choosing to specialise in a particular field like machine repair or a particular industry, for example, agriculture or automotive.
You can expect to spend anything from a couple of weeks to a couple of years qualifying as an electrician. A domestic installer is the quickest route and takes just a few weeks. To be classed as a fully qualified electrician, you'll need a combination of work experience and NVQ qualifications – if you are an apprentice you'll do both of these concurrently, but it will take between two and four years to complete.
Please note that the regulations are different in Scotland, and the only training path to becoming an electrician is an SVQ Qualification. Further information on how to become an electrician in Scotland can be found on the SJIB website.
Becoming a fully qualified electrician
If you're serious about making a career as an electrician and want the freedom to specialise in a particular field or industry, it's well worth taking the time to become a fully qualified electrician. This is the most demanding of the career paths available to you as an electrician and will require to obtain a certain level of training and successfully complete a number of assessments.
Beginning with an apprenticeship has traditionally been the most popular pathway to fully qualified status. Although they were sometimes considered a second choice to university placement, the popularity of apprenticeships in Great Britain is soaring and there are now more apprenticeships available than ever before. Research shows that around half of current school leavers actually favour an apprenticeship over further education because they are seen to be a fast track to a successful career.
If you're lucky enough to secure a role as an apprentice electrician, you'll work alongside studying for a Level 3 course & NVQ for apprentices. This combination of training means you'll get on the job experience under the supervision of a more experienced electrician along with the theoretical knowledge and qualifications which are needed to be considered a fully qualified electrician. The NVQ course includes a wide range of units, with topics covering everything from health and safety to wiring installation, inspection testing and even the science behind electrical principles.
After completing the classroom and workshop levels, you'll hold part one of the City & Guilds qualification and be considered a qualified electrician. You can then opt to be assessed at your place of work before taking an AM2 exam at a local centre.
This process usually takes around two to three years on average to complete but you will be working and earning a wage as an apprentice during that time.
Studying a diploma or technical certificate
Even if you don't succeed in getting an apprenticeship (or simply don't feel an apprenticeship is the correct choice for you), you can still train as an electrician by studying a Level 2 & 3 Diploma or technical certificate.
This is an industry recognised qualification so is a viable, popular pathway to becoming an electrician – either by becoming self-employed or, by joining an established electrical contractor as an employee.
Level 2 & 3 Diplomas equip you with the skills and knowledge needed to become an electrician in domestic, agricultural, industrial and commercial environments. Formerly, you'd train under the City & Guilds 2300 framework but, the new Level 2 & 3 Diplomas (City & Guilds 2365) replace that qualification.
Unlike an apprenticeship, you don't need to work at the same time as you study to undertake this pathway to qualifying as an electrician. If you have found it difficult to find an apprenticeship job in the field, taking this course could actually improve your chances and mean that you're able to start work a little way through the course to support yourself. Most electricians who complete the Level 2 & 3 Diplomas will go on to successfully study an NVQ once they find a job.
The course can be studied from start to finish in 16 weeks, so, it's a relatively short route to qualification. It is classroom and workshop based and you'll need to take an exam and pass assessments to successfully complete the course and be awarded a certificate.
Taking a domestic electrical installer course
If you're ready to get started working right away, the quickest way you can become an electrician is to take a domestic installer course. You won't be considered a fully qualified electrician at the end of the course but, you will be a trained domestic electrician, which means you'll be qualified to complete residential jobs such as rewiring a house or installing light fixtures.
A domestic installer course takes just over a month to complete and will equip you with the health and safety knowledge and skills needed to work in residential properties. This is a good starting point if you have no electrical experience and want to begin your career as an electrician.
Once you have completed a domestic installer course you can register with industry organisations such as NICEIC or ELECSA to self-certify your work.
Learn more about our electrician courses & 18th edition amendment 2 course or contact us today by phone, e-mail, or directly on our website!
Download your free information pack
Find out how you could train as a domestic gas engineer by downloading a free copy of our information pack.