When it comes to home renovations, rewiring a house is an essential task that ensures the safety and functionality of the electrical system. Outdated wiring can lead to numerous issues, including potential fire hazards and electrical malfunctions. In the UK, rewiring a house typically involves replacing existing electrical cables, sockets, switches and fuse boxes with new, up-to-date components to ensure that the home's electrical system meets current safety standards.
Homeowners should consider rewiring their house if it is over 25 years old, as the wiring may be worn out and pose potential dangers. A clear indication of whether a house has been recently rewired can be obtained by inspecting exposed parts of the wiring, the electricity meter, and the consumer unit or fuse box. However, the most reliable method to determine if a house requires rewiring is to obtain an Electrical Installation Condition Report (EICR) which assesses the state of the electrical system and identifies any damages, defects, or dangerous conditions.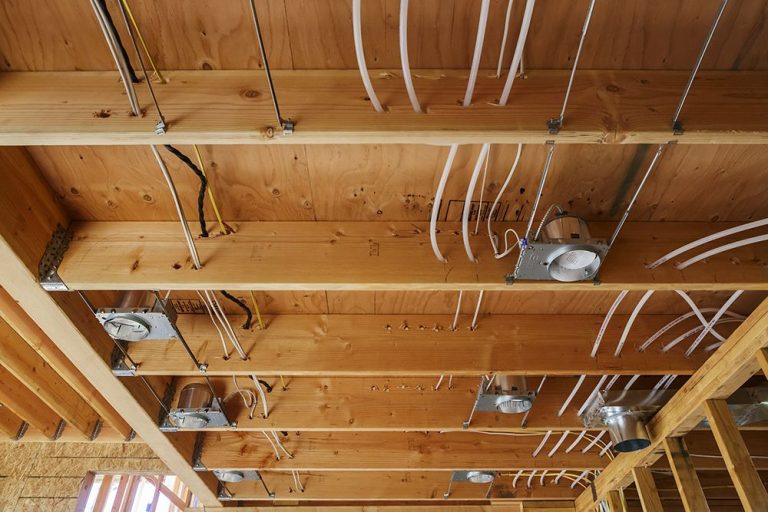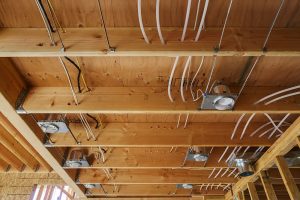 Assessing Your Home's Electrical System
Before beginning the process of rewiring a house, it's crucial to assess the current state of your home's electrical system. This involves examining your home's wiring, circuitry, and electrical panel to identify any outdated components or safety hazards.
An electrician should start by evaluating the overall condition of your home's wiring. This includes checking for damaged or frayed cables, as well as outdated wiring systems such as aluminium wiring. An assessment of the electrical panel and breaker box should also be conducted to ensure it meets the necessary safety standards and capacity demands of your household. This is particularly important since old fuse boxes or low-amp panels may need to be replaced with modern circuit breaker panels, allowing for safer and more efficient electrical service.
When it comes to your home's circuitry, determining the appropriate number of circuits and whether they are sufficiently segregated is a key aspect of the assessment. This ensures each individual circuit doesn't get overloaded, reducing the risk of electrical accidents. Furthermore, check if your electrical outlets and switches are functioning properly and if any areas of your home lack sufficient electrical coverage. This would involve confirming if the sockets are adequately spaced for safe and accessible use, and if necessary, plan for installing additional circuits or outlets.
Another essential aspect of assessing your home's electrical system is ensuring compliance with current regulatory guidelines and safety standards. In the UK, this includes adherence to the IET Wiring Regulations (BS 7671). Ensuring your home follows these regulations will help maintain a safe and properly functioning electrical system.
Once the assessment is complete, the electrician should provide you with a detailed report outlining the current state of your home's electrical system and any required updates or replacements. This information will be invaluable when planning and budgeting for the rewiring project.
Planning the Rewiring Process
Before starting the rewiring process, it is crucial to plan and organise each aspect to ensure success. To begin, consider obtaining an Electrical Installation Condition Report (EICR) to assess the current state of your electrical system and identify any areas that need updating.
Next, estimate the rewiring cost — which can be between £1,500 to £12,500 depending on the size of your home. To help you plan better, consult a house rewiring cost guide and gather quotes from different professionals for comparison.
When planning the new wiring layout, start at the front door and consider how each space will be used as you move through the house. Focus on the position and number of light switches, sockets, modems, and TV points required. Ensure the new layout meets all necessary building regulations as well.
During the rewiring process, consider the following steps to ensure a smooth transition:
Remove old wiring and installations from beneath floors and inside walls
Install new wiring and a new consumer unit in the same space as the old cabling (in most cases)
Chase cables away within walls and coving, requiring plastering and redecoration after the rewire
Incorporate the redecoration process into your plan, as this will be required once the new wiring and cables are in place. Apart from aesthetics, don't forget to factor in the costs of soil permits and skip hire along with other necessary materials and labour.
Hiring a Qualified Electrician
When embarking on a house rewiring project in the UK, it is crucial to hire a fully qualified and experienced electrician. To ensure the job is done safely and efficiently, look for an electrician with a Level 2 & 3 Diploma in Electrical Installations and a Level 3 NVQ Diploma in Electrotechnical Technology.
A professional electrician will adhere to UK regulations and can provide a certificate of compliance after completing the work. It is essential to verify that the electrician is registered with a government-approved scheme, such as NICEIC or ELECSA. This ensures that they meet the required safety and quality standards while performing the electrical work.
Before hiring an electrician, obtain several quotes to get an idea of the cost to rewire your property. The cost may vary depending on factors such as the size of your home, the complexity of the rewiring process, and the electrician's experience. It is recommended to gather at least three quotes from different electricians to make an informed decision.
When selecting an electrician, communication is an essential factor. Ensure they understand your expectations and are willing to address any concerns or questions you may have. Additionally, ask for references from previous clients to gain insight into their work quality and customer satisfaction.
In summary, hiring a qualified electrician for your house rewiring project in the UK is vital. Make sure to check their qualifications, registration with government-approved schemes, and gather multiple quotes to make a well-informed decision. Good communication and positive references can also help you choose the best electrician for the job.
Rewiring Procedure and Safety Measures
Rewiring a house in the UK involves two primary stages: the 'first fix' and the 'second fix'. The first fix includes removing the existing wiring and installing a new, up-to-date, and safety-approved wiring system. This stage involves fitting new wires, cables, and back boxes.
During the second fix, electrical components such as sockets, switches, and light fittings are installed, and the new wiring is properly connected. It is essential to ensure all connections and installations comply with UK electrical safety regulations.
Several safety measures must be followed during the rewiring process:
Notify Building Control: Inform building control authorities before beginning the rewiring process, as they need to approve the modifications.
Follow regulations: Adhere to the specific regulations set out for rewiring a house to ensure the safety of the occupants and reduce the risk of electrical fires
Hire a qualified electrician: Only use a certified, experienced electrician for rewiring a house to ensure the work is carried out correctly and safely.
Use safety-approved materials: Install wiring and electrical components that meet safety standards and regulations for the UK market.
Regular testing and inspection: Periodically inspect and test the electrical installations to ensure they are functioning correctly and safely throughout the house.
By following the proper rewiring procedure and safety measures, you can ensure that your home's electrical system is up to date, safe, and compliant with UK electrical regulations.
Costs and Timeframe
Rewiring a house in the UK involves various costs, and the timeframe depends on the property size and requirements. The estimated house electrical rewiring prices for a one-bedroom flat range between £3,000 and £4,800, taking around 4-7 days. A two-bed flat may cost on average between £3,800 and £5,800. Meanwhile, the average cost to rewire a 3-bedroom house is in the region of £4,450 to £8,000.
Other costs to consider when rewiring a house include hiring various professionals, such as:
Painter/decorator average hourly rate: £18 – £22
Builder average hourly rate: £25 – £30
Electrician average hourly rate: £35 – £45
Building Regs submission cost: £100 – £125
Building Regs inspection cost: varies depending on the complexity of the project
The rewiring timeline primarily depends on the property size and the number of new components being installed. For an average house with 3-4 bedrooms, a full rewire typically takes up to 7 days to complete. Properties with more rooms or complex wiring requirements may take longer. Additionally, the time required for rewiring a 1-bedroom house falls between 4-7 days, whereas a 3-bedroom house may take 6-10 days.
Post-Rewiring Inspection and Certification
After the completion of a house rewiring project, it is essential to ensure that the electrical work meets the necessary safety standards. This can be done through a post-rewiring inspection and certification process.
An inspection should be carried out by a qualified electrician who will assess the newly-installed wiring, sockets, switches, and other electrical components. This professional will verify that the rewiring has been performed according to the current building regulations and the UK Wiring Regulations.
During the inspection, the electrician will test various aspects of the electrical system, such as the continuity of protective conductors, insulation resistance, and the correct functioning of the residual current devices (RCDs). They may also check for potential issues like overloaded circuits, incorrect wiring connections, or faulty equipment.
Once the inspection has been completed and any necessary corrections have been made, the electrician can issue a certificate for the electrical installation. In the UK, this is known as the Electrical Installation Certificate (EIC) or the Minor Electrical Installation Works Certificate (MEIWC), depending on the extent of the work carried out. This certificate confirms that the rewiring has been done properly and is compliant with the relevant safety standards.
It is important to retain a copy of the certificate, as it may be required when selling the property or for insurance purposes. Additionally, keeping the certificate can provide peace of mind that the electrical work in the house is safe and up-to-date.
---
If you're interested in pursuing a career as an electrician, we offer a range of electrical courses & training aimed at both experienced electricians and new entrants.