Are you thinking about buying a Liquid Petroleum Gas (LPG) boiler? If so, there are some things you should know before making your final decision.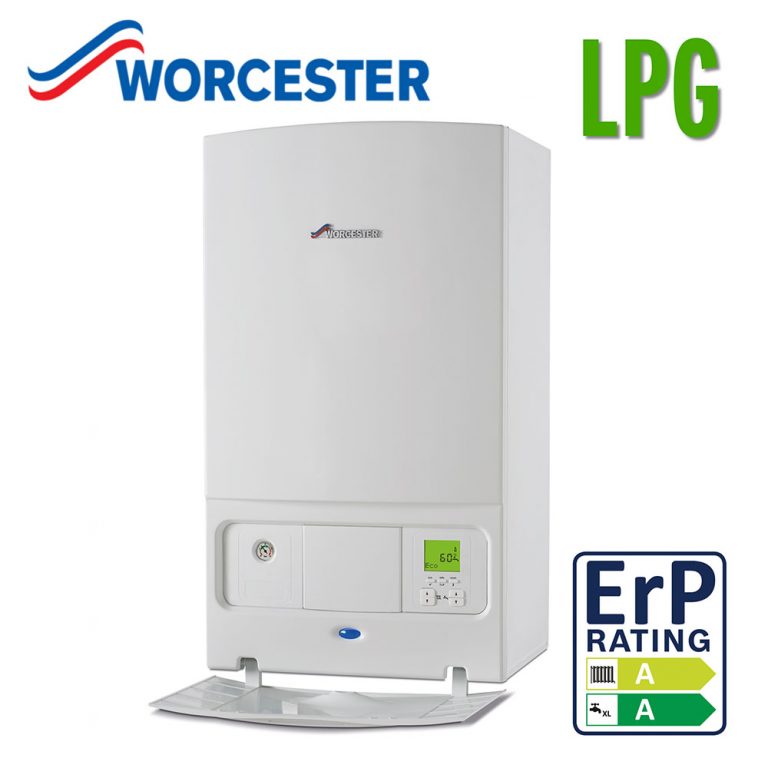 For millions of Britons, the ability to simply take and use natural gas as easily as tap water is something that is never given a second thought. Its convenience, inexpensiveness, and overall reliability make it a top choice for many when looking at energy sources for their heating and hot water needs.
However, there are some 4m homes around Britain that are not connected to that network – and if you are one of them, then you are likely using the most popular alternative: oil.
While oil boilers have their good points, LPG is a better choice for many: not only are LPG boilers cheaper, they also produce less in carbon emissions. So, between the two, which is the right choice for you and your household?
What is Liquid Petroleum Gas?
LPG is made from a mixture of gaseous hydrocarbons taken from natural gas, oil extraction, and oil refining. More than just an energy source for heating and hot water, it is also used in cooking, can be used as a fuel for some vehicles, and is even used in aerosols and as a refrigerant gas.
Due to its gaseous nature, it is typically stored in canisters and tanks, and you will see it transported in lorries.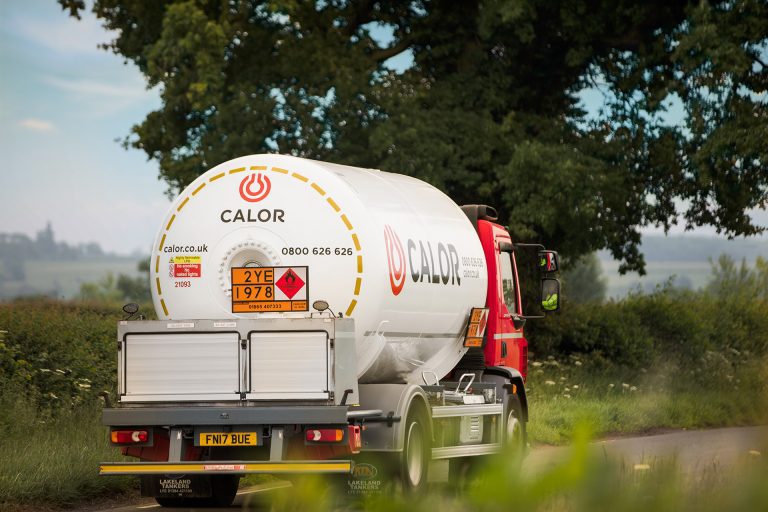 How Do LPG Boilers Work?
An LPG boiler works much the same as a regular gas or oil boiler; it burns the LPG fuel to create the energy that makes your radiators warm and your water hot. However, as there is no LPG network equivalent to the national gas network, you will need to get LPG delivered by a supplier so that your storage tank never goes empty and leaves you without energy – hardly ideal in the frosty depths of midwinter!
If your home is not already equipped for LPG, you will have to consider the extra costs of preparing it:
Buying a boiler that supports LPG heating systems (some natural gas boilers can be converted – check with your manufacturer)
Buying a storage tank to store your LPG
Finding a supplier who can bring you LPG
How Much Should You Pay for an LPG Boiler?
The good news is that an LPG boiler is cheaper than an oil boiler or a gas boiler; prices start at £350 for basic models. There are many models available, and many of the country's biggest manufacturers offer at least one. Below, you can see a quick price comparison for LPG boilers in the UK between manufacturers:
| | |
| --- | --- |
| LPG BOILER MANUFACTURER | PRICING (WITHOUT INSTALLATION) |
| Vokera | £250 to £600 |
| Ferroli | £500 to £800 |
| Alpha | £700 to £1,800 |
| Ideal | £700 to £1,400 |
| Baxi | £900 to £1,200 |
| Vaillant | £1,000 to £1,300 |
| Worcester Busch | £1,000 to £2,500 |
In addition to the boiler, you will also need to purchase an LPG storage tank if you do not already own one. These are typically installed in the garden – you can opt to keep them on the ground or under it.
You can purchase the storage tank outright, but it is worth asking suppliers if they offer tanks for rent, too, as this option may fit your budget better. Speaking of budgets, while LPG does cost more than oil per kWh unit, it far more energy-efficient. This is doubly true if you replace an older boiler with a new, A-grade condensing boiler model.
What to Consider When Choosing an LPG Storage Tank
Q: What is the best size of LPG storage tank?
A: For the average British home, a 1,410-liter tank is usually recommended. However, to be certain that you are getting the right size of LPG tank for your unique needs, it is best to contact a professional for advice.
Q: Is it better to have my LPG storage tank above or under the ground?
A: There are no quick and easy answers to this question, as so much depends on your personal preference and circumstances. Here are some of the main things to think about.
If you want to keep your garden green and pretty, then you should be looking to put the storage tank underground so that it is not visible except for a lid which suppliers can open for refilling. While this is an easy and convenient solution, if you live in a flood zone, an area with soil that is water-rich, or an area with high clay soil content, then you should avoid an under the ground LPG tank, as water and electricity don't mix!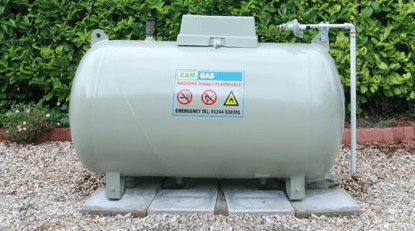 While an above-ground LPG storage tank does not have this issue, it is a little more involved – and costly. Firstly, you will need to build a concrete base and a pipework trench from your LPG tank to your property. At the same time, you need plenty of space around the tank to allow for a healthy airflow. This safety measure prevents LPG gas from any potential leak from pooling dangerously, instead blowing it harmlessly away.
After the tank is installed, you will also need to maintain the area, keeping it clean and free of debris. LPG tanks up to 2,500m need 3m of space, while those larger require 7.5m. If you want to hide the tank from view with a fence, you may have a fence on one side only, and it needs to be at least a meter away. The fence should be either non-flammable wood, metal, stone, or brickwork.
Placement is important, too – you can't just install your tank anywhere! According to regulations, you will need to ensure that LPG tankers can get within 25m of the access point to your tank, as well as making sure that the roads are accessible to the vehicle.
What Are the Pros of Using an LPG Boiler?
Once the boiler and storage tank are installed and you have a supplier, the good news is that you can start to enjoy LPG's many benefits as an energy efficient fuel solution.
Cheaper than oil: By installing an LPG boiler, you've already saved at least £500 – while LPG boiler prices start at £350, oil boilers typically run for £800+
Fewer carbon emissions: Feel good about doing your part for the planet; while LPG is not 'clean', it produces up to 20% less carbon than oil, making it greener
Higher energy efficiency: Modern, A-grade boilers offer a fantastic energy efficiency of 90%. In other words, for every £1 you spend, only 10p is lost
Smaller and quieter: Enjoy the silence with a lower noise output and smaller footprint than often clunky oil-fired boilers, which can shake, rattle, and roll
Plenty of choice: Not only do all the major manufacturers offer LPG boiler models, many even offer LPG conversion kits on their natural gas boilers
However, as with anything, there are some cons to LPG boilers.
What Are the Cons of Using an LPG Boiler?
Unfortunately, nothing is perfect. No matter what you are purchasing, you should always consider the downsides and whether you can live with them before buying. If nothing else, you will save yourself a lot of money, time, and frustration!
Fuel is more expensive: While LPG offers great energy efficiency, it does cost more per kWh of energy than natural gas an oil; this is not likely to change soon
Deliveries can be a chore: Not just deliveries, but also keeping an eye on the fuel level in your tank; get this wrong, and you may have to embrace the cold
Tanks need to be installed: This additional expense can be off-putting, as is the installation and potential garden eyesore; you will need to weigh this up
What Type of Boiler Works Best with LPG?
In Britain, there are three types of boiler available to suit the needs of most households:
Regular boilers
Combination (combi) boilers
System boilers
If you are lucky, you may have a boiler that can be converted from natural gas to LPG with the use of a conversion kit – check with your manufacturer for more details. This can save you hundreds on the installation of a brand-new LPG boiler.
If you are in the marketplace for a new boiler – or are looking to switch your boiler type along with your fuel type, then there are a few differences between each type of system to think about. There is no right or wrong choice here, as each type comes with its own pros and cons.
The needs of your household, along with the size of your house, should be the key factors in your decision-making.
Regular LPG boilers
Regular boilers are the most common in the UK and require a lot of space to accommodate their tanks and hot water cylinders. If you already have a cylinder, a boiler, and a storage tank, then a regular LPG boiler is a good choice as all you will need to do is replace the boiler without installing everything else.
A gas engineer may recommend an upgrade to a more modern combi boiler which removes water storage tanks and gives you some space back, but this will cost you more money.
Combi LPG boilers
Combi boilers have no hot water thanks or cylinders. Instead, they heat the water on demand. While this is remarkably convenient, their nature does mean they can only do one thing at a time. Take a long, hot shower in winter, and the heat in your home will drop. It is best to look at condensing LPG boilers and consider these only if your home is a small- to medium-size property no larger than 4 bedrooms.
If your home is larger than this or your family uses a lot of heating and hot water, then combi boilers are a poor solution – you will be better off with either a regular boiler or a system boiler, thanks to their hot water storage tanks, which allow for a more consistent supply.
System LPG boiler
System boilers feature a boiler with a hot water cylinder, allowing for multiple people and uses of energy at the same time; like a regular boiler, you will also be sacrificing space for this.
If you already have a boiler and a cylinder, then an LPG system boiler is a great choice – you may want to check your loft to see if there is a storage tank, as they are sometimes hidden away there.
Which LPG Boiler Model is the Best in the UK Today?
Boilers are not cheap, which means quality pays in the long run when purchasing. While you may make some initial savings on a cheap boiler, you will end up paying more in the long run and will likely have to buy a replacement sooner rather than later.
The cost of a boiler is not the only expense you need to consider. Don't forget, you'll also be paying for the actual fitting and installation on top. That price varies, but don't be surprised if your actual cost doubles.
When it comes to manufacturers, sticking to the following big brands (listed in no particular order) is a safe bet:
Baxi
Ideal
Potterton
Vaillant
Vokera
Worcester Busch
They all produce high-quality boilers that can last for a decade or more and often for just a couple of hundred pounds extra than a cheaper competitor.
With that said, each brand has its own pros and cons depending on your needs. It's worth consulting with an experienced gas engineer before buying, as they will be able to give you expert advice on the best boiler for your home. As tradesmen, they'll also know about any local special deals, so you can potentially save extra money at the same time!
---
Skills Training Group are an award-winning provider of adult gas apprenticeship courses. If you would like further information on how you can become a gas engineer, click here.