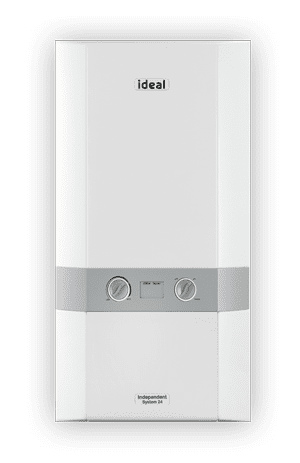 Are you in the process of choosing a new heating system and wondering, what size of boiler do I need? This is a common question for people looking to replace their boiler, and as it turns out, size can impact your energy bill, as well as your comfort at home. Size also affects the system's performance and output rating, making it a key factor in selecting a suitable unit for your property.
Choosing the right size boiler for your home helps ensure that your heating system works the way you want it to, meaning you don't need to invest in a new one later on. With a bit of research, you'll be prepared to make the right decision the first time around and find the ideal system for heating water and your home.
Let's take a look at everything you need to know, from ways to calculate boiler size to the types of boilers you'll want to consider. With this information on hand, you'll be ready to install your heating system, knowing you've made the right decision for your home.
What size of boiler do I need?
It is often the first question that comes to mind – what size of boiler do I need for my home? Choosing the optimal boiler size is all about striking the balance between a comfortable home and a low energy bill. This is your chance to ensure that you're meeting your home's heating requirements while keeping costs to an absolute minimum.
To put it plainly, if your boiler is too small, it will fail to offer adequate heating for your home. However, if you choose a boiler that is too large, it will work harder than you need it to, wasting energy and your hard-earned cash. So, finding a middle ground between the two is key when choosing your boiler.
But boiler sizing calculations can be challenging to determine alone. After all, this isn't about measuring the system based on height or width, as you may have expected. Instead, boiler size is calculated by determining the system's output in kilowatts (kW). A larger output in kW corresponds with more power. And the more power a system has, the larger it is considered to be in terms of size.
Getting to know the different types of boilers
There are a few different types of boilers to know about before consulting a boiler size calculator, including combi, system, and regular or heat-only systems. Each of these different boilers will work with gas, oil, or liquefied petroleum gas (LPG), depending on your home's unique requirements. Learning the ins and outs of each model will help you determine which is best for you.
Combi boilers
Combination boilers, or combi boilers, are a popular choice for homes in the UK. The boiler works to provide hot water and central heating all through one small and efficient system. These units are excellent for homes with little space, as they do not involve an additional tank for hot water storage. This also means installation is easy and affordable, and you can make the most of your living area in a way that wouldn't be available with other units. However, it's not ideal if you have a larger home or multiple bathrooms as your heating needs may surpass its abilities.
System boilers
System boilers store and heat hot water in a cylinder, but they do not require a water storage tank which can take up extra space in your loft space. Heating takes place inside the unit, delivering a steady flow of hot water to multiple parts of the home at the same time. Since the system doesn't have a water storage tank, it is another great option for smaller homes. As heating takes place within the unit itself, installation is simple, and you're left with additional space to enjoy as you please.
Regular boilers
Regular or heat-only boilers are commonly associated with more traditional heating systems. These units have an additional water storage tank, so they require more space than other systems. This may be the best option for homes with older heating systems that wouldn't hold up to the additional power of combi or system boilers. They're great for homes in lower pressure areas that require large amounts of hot water in different rooms at the same time.
What size of boiler do I need for my home size?
A good boiler sizing rule of thumb is to determine the kW you require based on the size of your home. The more bedrooms, bathrooms, radiators, and residents you have, the more kW you will need to heat your home and ensure there is enough hot water to go around. Let's run through a few examples to get an idea of the ideal boiler output for your situation.
In a one-bedroom flat with one shower, a combi boiler would be an excellent choice. But you may be wondering, what size of combi boiler do I need? For this situation, a 24-26 kW boiler is ideal. The unit is physically compact, yet it offers all the hot water you'll need for one or two people.
In a three-bedroom home, you'll need more power, as the space likely has more than one bathroom and more people in need of hot water. In this case, a 24 kW system boiler would work well, as it doesn't require a lot of space, yet it has the power to deliver hot water to multiple taps at the same time.
A five-bedroom house naturally demands more from its heating system, as it will have more space to heat, more bathrooms, and more areas that require hot water at the same time. For a home of this size, a 32 kW system boiler would be the perfect fit. This unit size ensures multiple showers, taps, and appliances receive hot water simultaneously, all while keeping each room nice and toasty.
Download your free information pack
Find out how you could train as a domestic gas engineer by downloading a free copy of our information pack.
Our combi boiler recommendations
If you're heating a smaller space, combi boilers are your best bet. These units are popular for their compact shape and energy efficiency, with a range of sizes designed to suit your home's specific requirements. Homes with one bathroom, fewer residents, or lower demand for hot water make great candidates for this economical heating system.
Here are some of the best combi boilers we recommend:
Baxi Platinum 28

Potterton Titanium 28

Vaillant ecoFit Pure 830
Finding the right system boiler
System boilers differ from combi boilers in that they make it easier to deliver hot water to multiple taps at once. They may be a better selection if you have more than one bathroom or require a steady flow of hot water to multiple taps at once. Like combi models, system boilers are still a great choice if you're looking for a compact unit, as it does not require an external tank for cold water storage.
Here are some of the best system boilers we recommend:
Vaillant ecoFit Pure 618

Baxi Megaflo 24
Tips for maximising boiler efficiency
There are plenty of additional ways to maximise boiler efficiency, so we've made a list of tips to help you keep your home cosy. Here are a few extra items to consider for ensuring your heating system runs as efficiently as possible.
Current boiler size
If you're replacing an existing system, you can use its size to help you determine the best choice for an update. Determine the current unit's size and whether or not your home's heating demands still align well with the current amount of kW. Any renovations, room additions, or new family members may increase the demand, so be sure to consider these types of changes before selecting a size for your new system.
Mains flow
If you're replacing a regular heating system with a combi or system boiler, you'll want to know the flow rate of the mains in your home. This is because regular heating systems receive water from storage tanks, while system and combi boilers get their water straight from the mains. Professionals can help you determine the flow rate coming from your mains so you can determine the combi or system boiler size required to heat the water as it passes through.
Home insulation
Insulation is the barrier that prevents heat loss in your home, so low-quality insulation means your boiler will require more energy to keep the house warm. Investing in heat-retaining insulation, windows, and doors ensures your boiler isn't overworked, keeping your energy bill nice and low.
Radiator size
Radiators come in all shapes, sizes, and output levels. Ensuring radiators have the right output for the room they're heating will help you make sure your system is running as efficiently as possible.
Regular maintenance
Yearly boiler servicing is a worthwhile investment, as experts can detect minor problems before your unit is beyond repair. This means you'll likely get more longevity out of your system, saving money in the long run.
Conclusion
Through this guide, you've gathered the information necessary to determine what size boiler you need for your home. This is a crucial step for maximising your family's comfort while minimising your energy bill. This extra bit of effort will save energy and money later on, allowing you to enjoy your space knowing you made the right choice for your family.
---
Skills Training Group provides a range of domestic heating installer courses as well as programmes aimed at beginners. To find out more, get in touch today.
Download your free information pack
Find out how you could train as a domestic gas engineer by downloading a free copy of our information pack.