18th Edition Amendment 2: What Is It and What Are the Important Things to Remember?
With the recent publication of Amendment 2 to the BS7671 IET Wiring Regulations 18th Edition, there have been adjustments to the rules and new regulations and criteria.
The regulations cover the planning, building, and inspection of new electrical installations and any additions or modifications to already-existing electrical installations.
This article will concentrate on Section 714, Chapters 41, 42, 44, 53, 64, and the brand-new Chapter 82.
What Is the 18th Edition Amendment 2?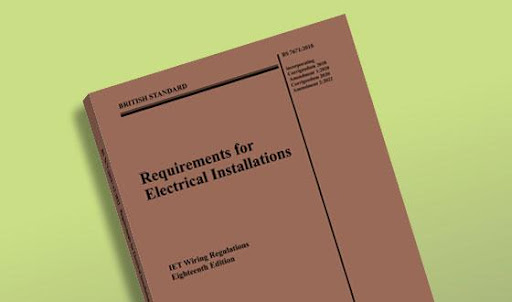 Amendment 2 (BS 7671:2018+A2:2022) is the first comprehensive revision to the 18th Edition Wiring Regulations.
It comprises major changes to the first amendment, published in 2020, and amendments to the Draft for Public Comment (DPC).
In 2020, the IET and BSI released the DPC for the amendments, allowing individuals in the electrical industry to review the proposed changes and provide feedback before final approval.
On September 27, 2022, the previous version, BS 7671:2018+A1:2020, will be phased out. Regulations affecting consumer units become mandatory on September 28.
The 18th Edition Course (Amendment 2) is taught in a classroom near you.
NOTE: A licensed electrician will issue the Electrical Installation Certificate as proof that any electrical installation project has been completed by BS 7671. (IEE Wiring Regulations). There is a separate page for the schedule of circuit details and another page for the schedule of test results.
What Is the Impact of the 18th Edition Amendment 2?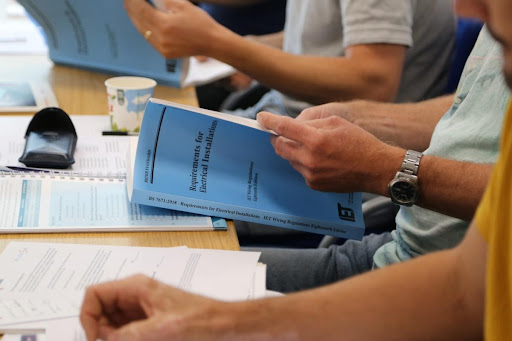 A list of the significant modifications made by the 2nd Amendment is provided below.
Section 714: Outdoor Lighting Installations
714.411.203. Specifies that the earthing conductor and any major protective bonding conductors to any extraneous-conductive items must have a minimum copper equivalent cross-sectional area of 6 mm2 and a maximum of 10 mm2.
714.411.3.4. Publicly accessible lighting must have additional RCD protection that satisfies the requirements of Regulation 415.1.1. Residual current protective devices shall be selected and installed to minimise the possibility of unwanted tripping. RCD protection must be provided where children or disabled persons are present, regardless of whether a risk assessment has been done.
You can get the 18th Edition Exam Tips here.
Chapter 41: Security Against Electric Shock
411.3.1.2. The law currently mandates that any external conductive components that could cause a harmful potential difference within a structure be linked to the main earthing terminal.
411.3.3. Additional protection for AC systems must be provided using an RCD with a rated residual operating current of no more than 30 mA.
Plug outlets with rated currents of no more than 32 A should be placed in areas where people with the capabilities of BA1, BA3, or children may use them (BA2, BA3),

Socket outlets in other locations with rated currents no greater than 32 A, and

Mobile equipment for outdoor use with a rated current of no more than 32 A.
411.4.2. It is advised that an extra connection to Earth be established to the primary earthing terminal using an earth electrode in line with Chapter 54.
Click here to view the 18th Edition Wiring Regulations.
Chapter 42: Safeguarding Against Thermal Impacts
Since electricity was first introduced into buildings, it required protection against fire caused by electrical installation, and the use of electrical installation has been required.
421.1.7. Arc Fault Detection Devices (AFDDs) are now required to protect individual final circuits supplying socket outlets and fixed current-consuming equipment with a rated current of no more than 32 A.
The Regulation suggests AFDDs for all other final circuits but permits their omission in certain situations where an unexpected circuit disconnect could be dangerous. AFDDs can be installed in distribution boards and consumer units, indicating that the installation contains overvoltage protective devices.
It is unnecessary to install Group 1 and Group 2 Arc Fault Detection Devices (AFDDs) at medical locations, according to Regulation 710.421.1.201. After a risk analysis, group 0 Arc Fault Detection Devices (AFDDs) must be utilized in medical settings.
The new requirements for documenting the building(s) fire safety design are introduced in Regulation 422.1.
It is to be documented where specific conditions of external influence exist, such as protected escape routes and locations with a fire risk.
Learn about the 18th Edition Consumer Unit Requirements here.
NOTE: The Electricity Safety, Quality, and Continuity Regulations outline safety requirements to keep the general public and consumers safe. Power quality and supply continuity requirements are laid down in the Rules.
Chapter 44: Protection against voltage disturbances and electromagnetic disturbances
Revisions have been made to Regulation 443.4, determining whether it requires protection against transient overvoltages.
Additional protection against transient overvoltages must now be provided in cases when the consequence caused by the overvoltage potentially leads to:
A fatality or serious injury to a person;

A significant financial or data loss.
There have been several minor revisions to the notices, most of which state exceptions for domestic properties and add a new appendix 11 with more information.
The Wiring Types Codes can be found here.
NOTE: There are various types of surge protection devices (SPDs). Type 1 installations are typically made at the installation's beginning; Type 2 installations are typically made at the distribution board or consumer unit throughout the electrical installation; and Type 3 installations are typically made close to terminal equipment. SPDS must be selected and installed by the manufacturer's instructions.
Chapter 53: Protection, Separation, Switching, Management, and Observation
COMMENT: According to Regulation 531.3.3, RCD Type AC must only serve fixed equipment where the load current lacks DC components.
Chapter 64: Initial Verification
Where relevant, the inspection items listed in 642.3 should be checked during initial verification.
The test must be conducted before connecting any equipment that could affect the measurement or outcome of the test, cause damage, or both, in line with Table 64.
Changes have been made to the national standard for RCD testing, and Table 3A (Time/current performance criteria for RCDs) has been removed from Appendix 3.
An RCD is considered effective when it disconnects within the time frame specified below when subjected to an alternating current test at the rated residual operating current.
Chapter 82: Low-Voltage Electrical Installations Made by Consumers
For designing, constructing, and verifying all low-voltage (LV) electrical installation varieties, Chapter 82 offers additional requirements, measures, the interface with the smart grid, and suggestions.
To be compatible with existing and future ways to deliver electrical energy to the public distribution network via local sources, this also includes local production and local storage units.
It monitors and controls the energy from the connected sources delivering it to current-using equipment
NOTE: Model forms and recipient instructions have undergone minor adjustments. They include the inclusion of fields for logging SPD and AFDD information.
What Are Important Bits to Remember in the 18th Edition Amendment 2?
Although the 2nd Amendment is extensive, the key points are as follows:
Part 2 Introduces New Terminologies
Several definitions have been updated, with most new meanings referring to the most recent chapter. The following definitions are crucial:
A consumer is a thing that uses power. This could be a homeowner or a business.

A producer is a thing that makes electricity, such as solar PV systems.

A prosumer is a person or thing that uses and generates electricity.

Low-voltage installations connected to a distribution network are PEIs (Prosumer's Low Voltage Electrical Installations). It discusses systems that can produce and store energy with local power supplies.
Every Plug Must Have RCDs
Three situations in which a Residual Circuit Device (RCD) is necessary will be added to the revised version of Regulation 411.3.3:
On socket outlets up to 32A when regular individuals use them, children, or impaired users.

In various locations on socket outlets up to and including 32A.

On portable equipment with an external use limit of 32A.
New Techniques for Overvoltage Protection
Protection must be in a place where the consequence caused by the overvoltage can result in any of the following:
Serious injury to or loss of human life

Failure of an electrical safety service

Significant financial or data loss
Surge Protection Devices
Any existing installations with fire alarm systems, emergency lights, or similar systems must include surge protection devices (SPD).
For Single-Phase AC Final Circuits Supplying Socket Outlets With a Rating Current Not Exceeding 32A in the Following Areas, Afdds Compliant With BS en 62606 Shall Be Provided:
Higher Risk Residential Buildings (HRRB)

Homes in Multiple Occupation (HMO)

Purpose-built student accommodation

Nursing homes
NOTE: A homes in multiple occupation (HMO) is a residence rented by at least three individuals who do not constitute a single "household." Purpose-built student accommodation is housing created particularly by private developers to accommodate students.
More Earthing Is Need for New Facilities
Article 542.1.2. requires additional earthing for new foundations, similar to foundation earthing.
New Chapter on Prosumers
A new chapter on prosumers is included in the new regulation. This chapter discusses low-voltage electrical installations made by prosumers (PEI).
Why Is the Amendment Important?
The IET Code of Practice for Electrical Energy Storage Systems, which offers more detail and clarity on this developing technology, is recommended for electricians to read.
Prosumer installations are projected to increase due to growing energy prices and government efforts to encourage the installation of solar panels and other renewable energy sources.
There are a growing number of prosumers today and in the years to come, which means that the energy flow in their electrical switchboards is bidirectional.
Frequently Asked Questions (FAQs)
Following are some of the most frequent inquiries regarding Amendment 2 of the 18th Edition:
When Did the 18th Edition Amendment 2 Come Out?
The amended clause was published on March 28, 2022. Six months after the 2nd Amendment takes effect, the previous version (BS 7671:2018+A1:2020) will be withdrawn.
What Is the Grace Period for 18th Edition Amendment 2?
A six-month "grace period" was instituted in April 2022 to allow contractors and electricians to ensure they could completely comply before the requirements were followed.
What Exactly Are Higher-Risk Residential Buildings?
Higher-risk residential buildings are one in which the effects of a fire could be disastrous. High-risk buildings include hospitals, nursing homes, schools, hotels, and student housing.
What Exactly Are Electrical Energy Management Systems?
It is a collection of computer-aided tools used by electric utility grid operators to monitor, control, and optimise the performance of the generation or transmission system.
Conclusion
We trust you found this information to be useful. While there is always room for interpretation, the installer should always use "good practice."
With new chapters and requirements modifications throughout the document, BS 7671:2018 (18th Edition of the IET Wiring Regulations) has undergone a significant revision.
These changes will impact electrical professionals around the UK, so it's crucial to understand what will happen and how you can prepare for it.