If you're looking for a career opportunity that offers stability, growth potential, and great starting wages, a gas engineering apprenticeship could be just what you're looking for. If a desk job isn't your thing and you'd rather be working with your hands, training to become a qualified gas engineer can offer you significant earning potential and the training paths mean you can either earn as you learn or rapidly become gas safe registered.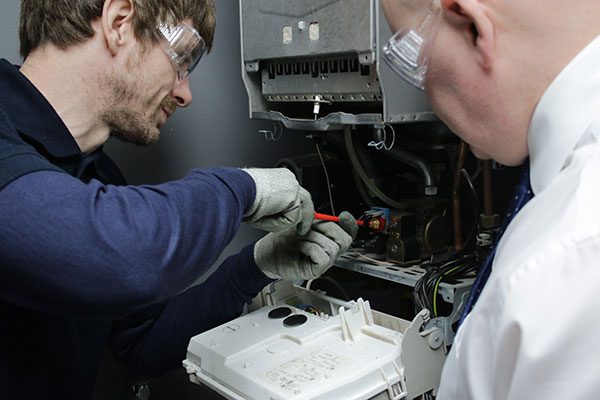 Why Train as a Gas engineer?
The UK is facing a shortage of quality tradesmen, making training and operating in these areas a stable career option with plenty of opportunities to increase your earnings. From electricians and bricklayers through to gas engineers, tradesmen are in high demand. And unlike other developing sectors, you can work in relative job security – homes and commercial buildings are continuously going to need the expertise of a gas engineer.
Different sources of energy are being researched, but a complete revamp of domestic heating systems would not be practical as the costs would be excessive.
So, how much can you expect to earn as a gas engineer? While you're training, the average wage is usually around £15,000 but this raises to upwards of £30,000 once you've become qualified with the very top-earning gas engineers raking in over £200,000 per year. The great news is that research shows that the salary of advertised gas engineer jobs increased by 13% in March 2018, far outpacing other industries.
There are also opportunities to progress beyond this pay scale. Firstly, there are several different industries and job types that can increase your pay, for example, the difference between a gas service engineer and domestic gas engineer is around £9,000. On top of that, once you've qualified you do have the option to work on a self-employed basis, allowing you to set your own hours and prices.
Choosing a training path
If training as a gas engineer appeals to you, the first step is to look at the different training options and consider which is the best option for you and your circumstances.
There are two preferred routes to training as a gas installer in the UK – completing a traditional NVQ apprenticeship or choosing a gas managed learning programme.
There are pros and cons to both options that you need to consider before deciding on your training route. Whichever route you opt for, it is vital that you are compliant with the current gas safety regulations after completing the training, allowing you to gain employment quickly without any restrictions.
All leading training providers will be up to speed with this and will be able to tell you how their course satisfies current practices.
Traditional Gas Engineer Apprenticeship
Apprenticeships are the conventional way to train as a gas installer. To start a gas fitter apprenticeship – also known as a heating engineer apprenticeship – you'll need to be employed by a Gas Safe Registered employer.
You'll complete your apprenticeship with the necessary ACS qualifications and usually, you'll have the opportunity to stay with the company you trained with.
Whilst getting an apprenticeship means that you'll be fortunate enough to be getting paid to learn, apprenticeships can be very difficult to find. There aren't many apprenticeships available nowadays, with each year appearing more difficult to secure places.
Gas Managed Learning Programme
The Gas Managed Learning Programme is the most popular way of training as a gas engineer, due to how quickly you can complete your training. Rather than taking four years to become fully qualified, the Gas Managed Learning Programme can be completed less than six months.
Choosing a Gas Managed Learning Programme puts you in the driving seat and take control of your education. Rather than having to compete for a limited number of places, you have the flexibility to find a training programme that matches your needs and goals.
Here at Skills Training Group, we offer an intensive and incredibly comprehensive in-depth gas training course that can be completed in just 25weeks. Split into four distinct stages, taking you from core gas safety processes to work placement, you'll have all the skills and certification you need to get started with your new career. Qualifications gained during the course include CCN1, CPA1, CENWAT, CKR1, and HTR1, giving you a vast skill set to tap into.
With two very different routes to becoming a gas engineer, you can select the one that works best for you.
Further information on Skills Training Group's New Entrant Gas Courses can be seen here.
Why are apprenticeships falling in popularity?
While NVQ heating engineer apprenticeships have been the traditional route to gain access to a gas engineer job, it's a route that's slowly being replaced by learning programmes.
The core reason for this is a lack of apprenticeship funding for companies to take gas apprentices on. Without this funding, companies are having to pay the full salary for the apprentice throughout their training. Operating an apprenticeship means a three or four-year commitment to work with and train an individual. Because of this investment, firms want the person they're invested in to continue working at their company for a long period of time. However, changes to the economy and how frequently workers swap jobs mean this is no longer happening, and with some firms losing apprentices to competitors almost as soon they've completed their training, it's led to a reluctance to take on and train apprentices.
Luckily the fast-track gas managed learning option still gives ambitious future gas engineers an excellent opportunity to train and there are numerous other benefits to selecting the option too.
Are you interested in becoming a gas engineer? We've got the further information you need and can help you get on the right track to becoming a fully qualified and working gas engineer as quickly as possible. Get in touch with us today to kickstart your next career move.
Download your free information pack
Find out how you could train as a domestic gas engineer by downloading a free copy of our information pack.