AED is short for Automated External Defibrillator. This is a piece of medical equipment used when someone is unconscious, not breathing, and is unresponsive, otherwise known as being in cardiac arrest. This is an electrical problem in the heart, and not the same as a heart attack.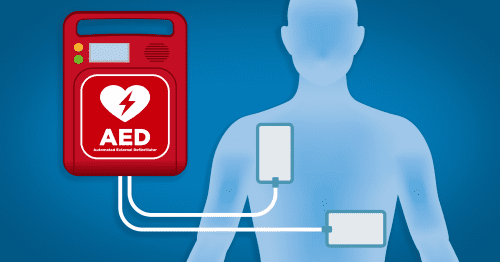 An Automated External Defibrillators include 2 pads that are positioned on the chest. These pads have two functions; the first is to assess the rhythms of the patient's heart. While secondly, when needed, they can also administer an electric shock to restart a person's heart as well.
If you would like to further your first aid skills we also offer defibrillator training courses.
---
Why do workplaces need AEDs?
Now, you may think that AEDs are only used in hospitals or airports, but this is not the case. In fact, in line with The Health and Safety (First-Aid) Regulations 1981, many workplaces are now adopting the use of AEDs.
Of course, the benefits of investing in an AED and training your workers to use one go beyond just adhering to the law. In fact, having an AED on hand can boost the survival rate of someone having a heart attack significantly. This being something that could literally mean the difference between life and death. Either for an employee involved in an accident at work or a worker or customer suffering from a non-work hazard related emergency.
Is my business legally required to have an AED?
Now, with such benefits, the importance of AEDs in the workplace is clear, and it would make sense that every business small, medium, or large invest in one. It is worth noting though, that it is not currently a legal requirement unless your first aid assessment specifically suggests the need for one.
However, employers with staff members that may have pre-existing heart conditions and those that work in high-hazard industry. Not to mention those that work with a large volume of the general public would be wise to ensure there is always one on-site.
If you decide to provide an AED in the workplace, making sure it's correctly operated is essential. In fact, having such sophisticated life- saving equipment available and it going unused in an emergency is a real tragedy that could cost someone their life!
With that in mind, remember that the 1988 PUWER (Provision and Use of Workplace Equipment Regulations) apply here. That is, you'll need to have written instructions on how to use the AED to hand.
The good news is that as well as these written instructions, AED comes equipped with voice prompts to guide the user on what to do, as they are doing it. Additionally, many first-aid at work courses include instructions on how to operate an AED. Something that means your on-site first aiders will be as confident and capable as possible should the need to use it arise.
In what situations should an AED be used?
It is essential to be aware that AEDs must only be used when someone is in cardiac arrest. In fact, if they are used contrary to this advice, they can be harmful.
Fortunately, you can tell if someone is in cardiac arrest reasonably easily by following the advice here.
Of course, if this is the case, then the person will be in considerable medical danger. This is because without oxygenated blood being pumped around the body, the brain and vital organs can quickly become damaged.
That is why it is so vital to act quickly if a person is experiencing cardiac arrest. In fact, you can follow a plan like this:
Step one:

Start manual resuscitation with 30 chest compressions and 2 rescue breaths. A second person should call 999, while a third person should fetch the AED.

Step two:

Continue with manual resuscitation until help arrives

Step three

: One person should continue with manual resuscitation. While another should open up the AED, turn it on and follow the voice prompts.
Please note that if you are required to administer an electric shock to start the heart, no one else should be in physical contact with the patient. Even the person that is administering manual resuscitation.
How to operate an AED
Unfortunately, if you have never done it before, using an AED can seem scary. The excellent news is that despite AEDs being sophisticated pieces of life-saving equipment, they are straightforward to use.
In fact, all you need to do is follow the voice prompts. Although to increase confidence and swift action during a crisis, you can invest in a first-aid at work course, as well as the machine itself. After all, in this situation, the right equipment and someone confident in using it could save a life!

Skills Training Group offer a range of first aid courses in Glasgow and around the UK. If you'd like further information on these courses, call us on 0808 164 2780.