Choosing the right training course for your experience, goals, and requirements is an important decision. It's key that you put the time into understanding each option before settling on the right fit. Unfortunately, with the sheer volume of information available to you, it's easy to be led astray. Outdated advice, contradictory statements, you name it – that's why we're here.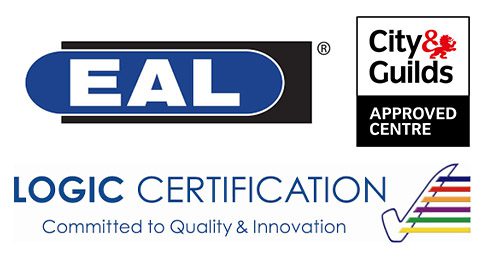 What is your budget for attaining qualifications? Which certifications will you need? Who should provide your training? The answers to all of this and more will depend entirely on you, but we can help make it easier.
By looking at our gas & electrical course pages, you can start to get a feel for exactly which qualifications you'll need for the career you've chosen.
As for certifications, you may be wondering what the differences are between City & Guilds, LCL Awards, and EAL. Well, wonder no more! We can explain it simply and straightforwardly.
Each of these three is a different certification body within the UK. Many people get confused, wondering which one they might need for which trade or which job, and whether they will be required to have one or another at a given time. In short, you don't. All three certification bodies are accepted throughout the UK, even if one is more well-known than another. You can get your qualifications from any of them – more important is that you choose the training course that is the best fit for you.
For example:
For electrical work in domestic dwellings, you have the following options: with City & Guilds, you can take their Installing, Testing and Ensuring Compliance of Electrical Installation Work in Dwellings (2397) certification; at EAL, you'll get qualified in Installing, Testing and Ensuring Compliance of Electrical Installations in Dwellings; and finally, Logic Certification (now LCL Awards) offers Domestic Electric Installer certification. So, while each course may sound a bit different, and certainly the training itself will have some differences between them, the end result is the same: you will be professionally qualified to do electrical work in domestic dwellings in the UK.
City & Guilds
This company offers multiple accreditations and vocational assessments across a range of 28 different trades or industries. The qualifications they provide number in the thousands, and are generally appropriate for training providers, employers, and colleges. The City & Guilds of London Institute was first founded in 1878 with a mission to ensure standards for technical education into the future. They are among the most established accreditation bureaus in the UK.
EAL
Officially, EAL has designated themselves as a "specialist skills partner and awarding organisation for the industry". EAL works closely with accredited training centres to certify their standards of testing, training, and education. To support each training centre in their endeavours, an EAL External Quality Assurer is designated to them. They were first introduced in 1992, while the Engineering Industry Training Board which they are based on was first established in 1964.
LCL Awards (Formerly Logic Certification)
With over 200 approved qualification centres throughout the UK, LCL Awards offers a number of certificates for tradespeople in gas, plumbing, and electrical industries. Among the newest of the certifying bodies, it was established in 2004 and began by offering ACS competency qualifications. This is the certification that a gas fitter must obtain before being listed on the Gas Safe Register. Logic has since diversified and now offers additional industry certifications in response to demand and need across the board in BSE (building services engineering). After a very recent re-branding (as of June 2019), they are now known as LCL Awards.
Which is better?
All three of these bodies can provide appropriate certifications or qualifications for tradespeople, depending on which industry they have chosen for their careers. While some may only be offered by one company or another, and the content or style of each training course may differ slightly between them, the end result (your certifications) will be the same.
All gas engineers will be required to obtain their ACS qualifications, which can be provided by any of the above companies. After that, an application to be added to the Gas Safe registration can be made. For electrical systems in dwellings, a Domestic Electrical Installer Award is needed, and NVQ Level 3 will be required to become a fully qualified electrician. These electrical training courses will lead to a competent persons scheme, which will then allow you to apply for your ECS Gold Card. Again, these certifications can be provided by all three of the above certifying bodies.