What is a first aider? Can you consider yourself one? You could have these questions lingering in your mind like many others.
Perhaps you know people who call themselves first aiders. Or maybe you want to be one yourself.
To simply put it, first aiders are individuals who respond to emergencies and address people at harm.
In most situations, they care for either ill or injured people.
Learn First Aid Skills Online From Only £20 with Highspeed Training – click here for further information.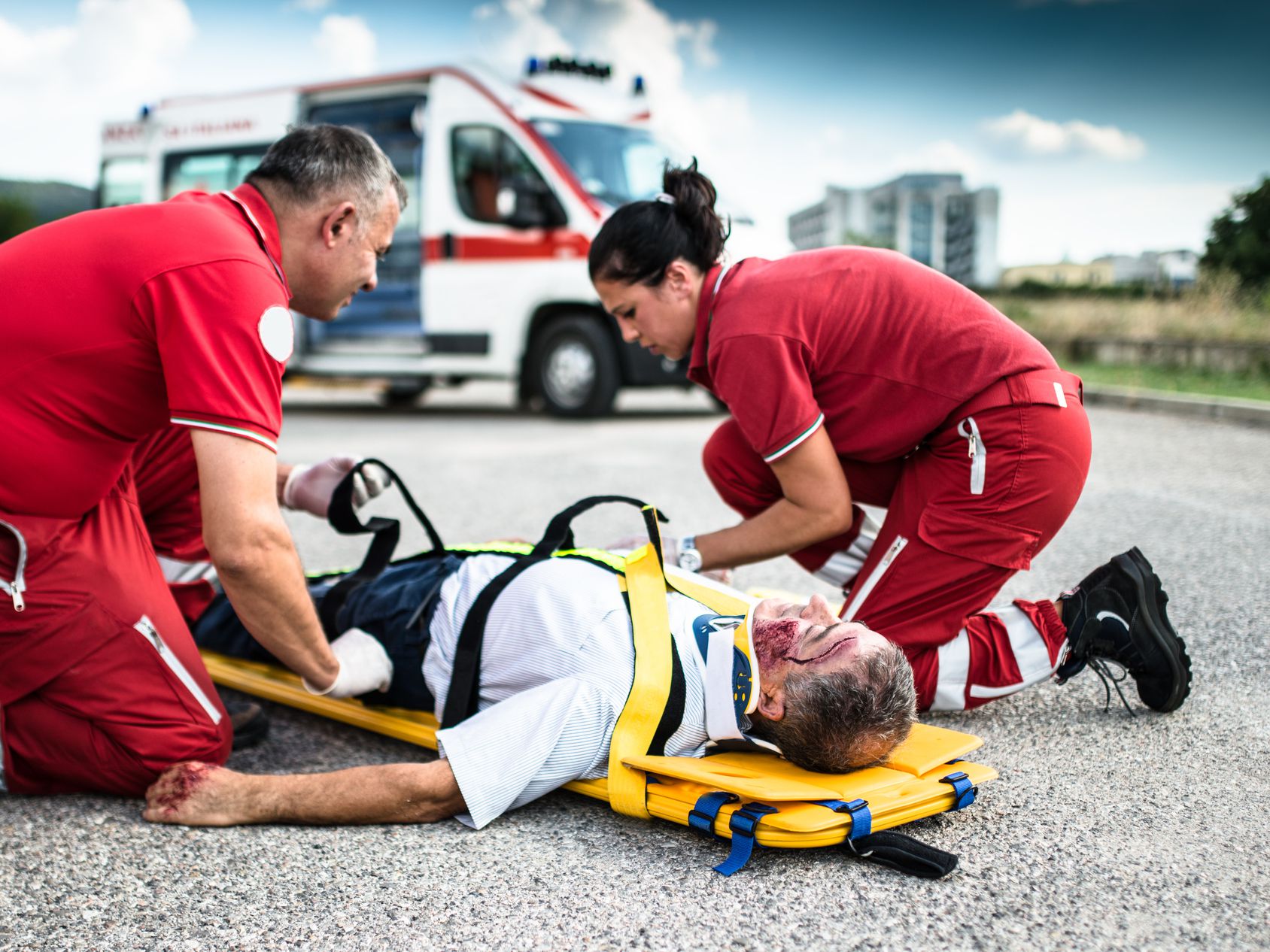 What Is a First Aider?
A first aider is a person trained to take care of individuals involved in an emergency.
Particularly, first aiders look after injured or ill patients who need immediate medical care.
They also ensure that their patients are safe and away from further harm.
They have certificates to validate their skills and knowledge in first aid which guarantees that the person in charge knows how to properly apply first aid.
Nominated first aiders are mostly needed in the workplace. An employer seeks to have a first aider on-site to comply with specific regulations.
Workplace first aiders should have certificates in first aid at work (FAW) or emergency first aid at work (EFAW), and other relevant training to address urgent circumstances.
What Is the Importance of First Aid?
First aid care is very helpful, especially in life and death situations where full medical treatment is yet to arrive.
Its importance has been widely recognised worldwide, notably in handling an emergency.
Specifically, first aid treatment is essential to:
Preserve life.

As a first aider, you ensure not only the safety of an ill or injured person. But you also consider the safety of bystanders and yourself.

Prevent deterioration.

You help in keeping the patient's condition stable. And in the prevention of further harm to your patient.

Promote recovery

. By providing first aid care, you also provide relief to the casualty and help in recovery.
What Are the Roles of First Aiders?
As a first aider, you're responsible for providing immediate, lifesaving medical care to an ill or injured person.
You are on the hook for treating minor conditions, like a wound, external bleeding, or injury, for example.
First aiders are vital in ensuring the patient's safety, especially before further medical help arrives. Or before bringing the casualty to the hospital.
These are a few tasks that you may be expected to perform as a first aider:
Maintaining the airway of an unconscious person by placing them in a recovery position
Performing cardiopulmonary resuscitation CPR

or using an automated external defibrillator (AED) and other equipment

Applying pressure

to stop external bleeding

Supporting

an injured limb
Your main role is to prevent risk, save lives, and ensure the health and safety of casualties.
Learn First Aid Skills Online From Only £20 with Highspeed Training – click here for further information.
What Are Other Responsibilities of First Aiders?
But aside from this general responsibility, first aiders also have distinct roles to play. It mainly depends on your assignment and qualifications.
Workplace First Aider
If you are assigned the responsibilities of providing first aid in the workplace, you are expected to care for employees caught up in a health emergency.
First aid provision is essential in workplaces since many accidents can happen anytime.
It's the employer's responsibility to ensure the safety of their workers. They also need to comply with regulations that require them to do so.
Hence, they need a first aider, adequate equipment, a first aid kit, and an on-site first aid room.
Mental Health First Aider
Mental health first aiders are also common in work sites.
An employer should not only be concerned about their employee's physical health and safety. They also need to prioritise their mental welfare.
Hence, these first aiders are the ones to fulfill the role.
Duty of Care First Aider
Generally, first aid cover is required in any place that needs a duty of care. They can be ANYWHERE, like a community complex or an organised event.
Organisers are responsible for having first aiders on standby.
This is more necessary if activities held can potentially lead to accidents.
What Are the Different Types of First Aid?
Now that you already know the basic information on a first aider, let's push ahead to the different types of first aid.
Every first aider has undergone different types of training and first aid courses.
Hence, they also have distinct qualifications. And they are competent in providing specific emergency services.
Emergency First Aid at Work
First on the list is emergency first aid. You're qualified for this if you have undertaken a 1-day EFAW course.
Specifically, you'll be involved in life-threatening situations.
Most of your attention is focused on airway, breathing, and circulatory emergencies.
First Aid at Work
First aid at work is a 3-day course and covers more topics than the basic emergency first aid at work qualification.
This is designed for high-risk workplaces such as factories.
This is also one of the qualifications required for paramedics and first aid trainers.
Paediatric First Aid
Paediatric first aid is essential for anyone working with children or infants.
To specialise in child care, you must undertake a level 3 paediatric first aid course.
Learning about child illness and safety is also a plus in this area.
Mental Health First Aid
Mental health first aid course is more concerned with mental health and well-being.
This focuses more on crafting wellness programs and addressing a person experiencing sudden loss, grief, trauma, and stress.
How Do I Become a First Aider?
Sure, you can perform first aid care on your own. But being familiar with your first aid kit is NOT enough.
To be a recognised first aider, you must receive proper instruction and first aid training.
You need to know first aid best practices to apply in real-life situations.
This makes you confident to address the injury and illness of people in need.
When you finish your first aid courses, you'll receive certificates. These courses give distinct validations depending on the training you received.
Your course can give you the accreditation to perform CPR, basic first aid care, or first aid cover in a community.
However, certain certifications expire, like that of a workplace first aider. Certificates concerning this area only last for three years.
Before it expires, you need to take a refresher course to be re-qualified.
Wrapping Up
First aiders are angels of the sickroom. They respond to emergencies at any time and place.
They safeguard the wellness of casualties and take into account the lives of bystanders.
With proper first aid provision, life is potentially saved and a person who is ill or suffering from injury is given greater chances of survival.
The risk for the patient, and the people around, is alleviated.
To be a first aider is a GREAT choice to consider. You won't only help strangers, you could also help people close to your heart.