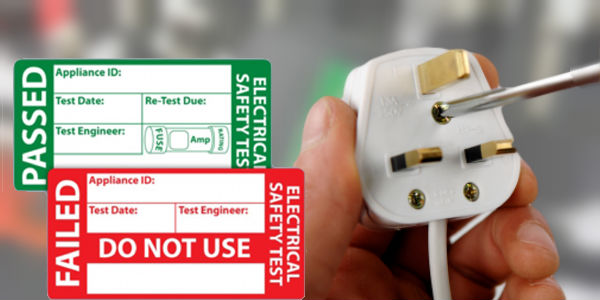 PAT Testing Safety: Everything You Need to Know
In recent years, many people have invested in electrical appliances at home and the workplace.
Regardless of what appliance they purchase, there's always a qualification to be safe and effective. But this is just one aspect of enjoying a piece of electrical equipment.
The next aspect involves ensuring that the equipment remains fit to use after several years. This could be done with the help of a simple PAT test over portable and fixed appliances.
What Is PAT Testing?
Portable appliance testing (PAT testing) is a series of tests done on fixed and portable appliances to check if it's safe and fit.
PAT tests can determine if the equipment still complies with health and safety regulations with the help of visual inspections or manual testing equipment. Some test includes the following:
Earth continuity test

Lead polarity test

PAT insulation test
The Health and Safety executive mandates employers and company owners to create a safe and conducive environment for employees to work in.
A method is PAT testing to ensure electrical equipment health and safety. This helps spot any potential hazards and electrical accidents, even before it happens.
Enlisting the services of a PAT testing specialist is vital, especially in a high-risk setting.
What Are the Requirements of a PAT Test?
Various PAT testing regulations today aim to create low-risk environments for employees.
Although PAT testing isn't a legal requirement, conducting PAT tests has become a standard practice among responsible business owners.
Through the years, a well-established step-by-step guide and detailed requirements have helped employers understand how to conduct a PAT test.
This includes the following:
Complete inventory of all electrical appliances in the office

Formal visual inspection of electrical appliances used

Conducting different

types of PAT testing

depending on the equipment

Labelling any faulty or damaged equipment

Issuing PAT testing certification over appliances tested
Understanding this entails enrolling in a PAT testing course to become familiar with the procedures.
Why Is It Important to Do PAT Testing?
A reading of various PAT testing regulations would show that company owners have no legal requirement to get PAT tested. Nonetheless, it's an important process that needs to be conducted.
One of the core obligations of employers and company owners is to create a safe and conducive work environment.
A simple solution such as PAT testing is enough to comply with this duty.
Having a competent person conduct PAT testing helps maintain electrical equipment and an effective maintenance regime over an electrical appliance.
Formal visual inspections and specialist PAT testing equipment are great ways to receive a PAT test certificate.
Understanding the Safety Risks Involved with PAT Testing
There are several risks involved with PAT testing, and observing the usual safety precautions is a must.
A portable appliance tester must know how to handle an electrical appliance in high-risk situations without compromising their health and safety.
This also includes knowing how to check a fixed installation and conducting proper electrical installations.
Understanding the risks involved gives a clear picture of the type of job that needs to be undertaken over an electrical appliance.
Common Electrical Hazards
One of the common risks employees, and even a portable appliance tester, face during a PAT test is the different electrical hazards.
The Provision and Use of Work Equipment Regulations of 1998, no less, gives employers an obligation to manage the risks involved with electrical equipment.
Although it's part of the job, we're sure no one wants to deal with it daily. Common hazards include the following:
Electrical shock and burns

Electrical fires and explosions

Exposed wiring

Faulty wiring

Overheating power lines
Sometimes, a simple visual inspection helps spot any issues with each electrical appliance. Nonetheless, manual PAT testing still needs to be done to be sure.
Fire Hazards
Exposed wiring and overloading outlets are major causes of office fires. When this happens, it leaves a sea of damage that is often unsalvageable.
Getting PAT tested is one of the ways to ensure that any faulty wirings and damaged appliances are avoided. More importantly, a PAT test is one of the best ways to avoid business losses.
Just imagine how much you'll spend when a fire breaks out compared to how much a PAT test costs.
Potential Hazards of Improper Pat Testing
We can't emphasise enough the importance of having a qualified person conduct the PAT testing.
Improper PAT testing can lead to erroneous results that may harm business operations. Worse, it might not even comply with work regulations set by the Health and Safety executive.
For low-risk environments, a maintenance employee can conduct the PAT test through a simple visual inspection of electrical equipment.
However, in high-risk environments like a construction site, the tester must be a highly qualified person who underwent a PAT testing course.
This ensures they know how to handle the PAT testing equipment and understand the legal requirement that needs to be met.
Moreover, watch out for the different types of pat testers who can best perform a particular job.
Safety Tips for PAT Testing
There may be some hazards involved with portable appliance testing, but these are all preventable with the help of a few safety precautions.
We've listed some safety tips below to help guarantee smooth and safe PAT testing.
Wear Proper Safety Equipment
One of the basic safety precautions you can take is equipping yourself with the proper safety equipment.
This reduces the chances of testers suffering from electrical hazards involved with portable appliance testing.
In a construction site, for example, workers have to wear thick boots and hard hats as part of their work regulations.
The same concept goes for a competent person who will conduct the PAT test. They should wear the proper gear, such as the following:
Insulated gloves and footwear – to prevent suffering from electric shocks

Glasses – to shield the eyes from bright sparks

Hard hat – applicable to testers working in high-risk places

Voltage limiting devices – used for overloaded circuits or extension cords
In all cases, testers must know how to use the PAT testing equipment and properly conduct the electrical testing.
Familiarise Yourself with the Equipment
There are many portable electrical equipment used for PAT testing.
For a trained professional, distinguishing between portable electrical equipment is as easy as counting.
Be familiar with the PAT testing equipment, how they're used, and what tests it's best for.
Doing this ensures the least number of errors when doing tests like the following:
Insulation test

Leakage current test

Screen test
Follow an Inspection Checklist
PAT testing electrical equipment means serious business, and every step is crucial. Each step must be observed to prevent missing anything important.
A comprehensive checklist ensures that a tester follows strict rules during the PAT test.
This ensures that all electrical appliances are PAT tested and covered by proper documentation.
Understand the Different Types of Tests
Different types of PAT testing can be conducted, each requiring its own set of PAT testing equipment.
A common step usually involves a formal visual inspection of the portable appliances and a manual testing procedure in proper cases.
Electrical tests vary, and portable appliance testers have to take into account several factors, such as the following:
The place where the business is operated – is it a high-risk or low-risk environment?

Equipment used regularly – do employees usually handle power tools?

Persons operating the equipment – are highly skilled professionals using the tools?
All these must be identified for a tester to know what procedure to undertake. Once this has been determined, what test to employ:
Insulation resistance tests

Leakage current testing

Polarity testing
Understanding how to arrive at the different types of PAT tests gives you an idea of what issues may face.
What Are the Benefits of Safe PAT Testing?
Portable appliance testing is easily one of the best ways to stay on top of your electrical work in the office. It has numerous benefits, convincing you to book a PAT test soon.
1: Reduces Fire Risks
Electrical fires are among the number one enemies, whether at home or in the workplace. It's destructive and can lead to the loss of money and lives.
Electrical fires are highly preventable as long as proper safety precautions are observed. This could be as simple as having regular PAT tests to ensure electrical safety.
Following PAT testing procedures keeps you updated with the status of your portable equipment in the workplace.
More importantly, it's one method to comply with work equipment regulations.
Make sure to get PAT tested only by a competent person. Feel free to ask what type of PAT testing will be involved and why.
2: Saves Money in the Long Run
After several years, most electrical equipment has to be replaced. A common reason for this is faulty wiring or electrical issues that should have been discovered earlier.
Accumulating all the costs would show a large sum of money that could have been dedicated to something else.
Undertaking a regular PAT test schedule helps ensure your portable appliances are always in good condition. At the very least, it could still be repaired without costing too much.
PAT testing costs significantly less than buying a new set of portable electrical appliances every year.
3: Helps With Insurance
Having office insurance helps prevent company owners from suffering severe business losses.
This is especially true when a fire breaks and a company must start from scratch again.
Although applying for insurance is easy, the same can't be said when it's time to claim the proceeds. Some claimants can only get a small amount, while others don't.
No one wants to fall under the latter scenario. This is why doing all means necessary before the accident happens is vital.
A simple PAT test is enough to show compliance with health and safety requirements and the absence of foul play.
In case of fire-related accidents, you can easily show that all equipment used is PAT tested and complies with relevant regulations through the PAT testing records.
Frequently Asked Questions
In recent years, PAT testing has become one of the go-to solutions by employers because of its efficacy. The testing involves spotting any equipment apparently failing or already useless.
We've answered some of the FAQs we get, which will help you understand electrical testing more.
Is PAT Testing Required?
There is no law which requires a PAT test. However, there are various legislations which are consistent with the objective of PAT testing, which is to create a safe and healthy workplace.
A good example of such legislation includes the following:
Thus, even without a law specifically requiring PAT testing, sufficient regulations promote the same.
Is a PAT Test Certificate Needed?
A PAT certificate isn't required. However, asking for a PAT testing certification is highly recommended if you want to show that you've complied with health and safety regulations.
At best, a PAT certificate shows that the employer complies with the relevant PAT testing regulations.
But even with certification, employers must maintain a reasonable PAT testing schedule. Having annual PAT tests should be enough to spot an electrical safety defect.
What Are the Different Electrical Classes?
There are three types of electrical classes: 1, 2 and 3. The difference between each of them is based on the hazard it poses.
Appliances falling under class 1 are more dangerous, and the likelihood of electrical accidents happening is greater. This is the exact opposite of appliances falling under class 3.
Class 1 Appliances
Proper handling of class 1 appliances must always be observed. It's the most dangerous of all the classes because of the hazard it poses to the community.
Thus, many electrical equipment manufacturers recommend testing a class 1 appliance often.
PAT testers highly recommend a full PAT insulation resistance test and earth continuity test.
It ensures that equipment under this class remains safe even after a long period. Here are some examples of class 1 Appliances:
Industrial machinery

Vending machines

Washing machines

Water heater

Welding machines
Class 2 Appliances
Class 2 appliances involve your everyday items and only pose a moderate risk to the user. Thus, PAT testing frequency is not as often as class 1 appliances.
But for electrical safety purposes, a PAT tester still needs to check the usability of the equipment. This includes conducting electrical tests such as earth continuity tests or lead polarity.
Some examples of class 2 appliances include the following:
Angle grinders

Drillers

Hairdryers

Lamps

Lawnmower
Class 3 Appliances
Class 3 appliances are the least dangerous of them all. Conducting a portable appliance test is not necessary.
Employers don't have to worry about class 3 appliances being an electrical hazard, especially since it typically has low voltage only.
Class 3 appliances include the following:
Laptops

Mobile phones

Portable electric lights

Scanners

Smartphones
Conclusion
Simple PAT testing can already do so much to keep your workplace a safe place to work in. Electrical accidents are least likely to happen with the help of a standard routine test.
PAT inspection isn't anything to fear because it helps you spot most electrical safety defects. It's a great way to prevent accidents from happening, whether minor or major.
It's time to enlist the services of a PAT tester and learn how PAT testing safety can help save your business.